Rebekah reviews R.C. Lewis's Stitching Snow, a space-age retelling of the classic story.
Rebekah reviews the latest app from Disney Publishing. Minnie's Food Truck is open for business.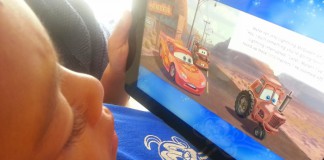 Disney is finally making their read-along storybooks available via app. Rebekah reviews the new Disney Storybook App.
Rebekah reviews some of the new Disney Stores toys available for the new animated feature, Planes Fire & Rescue.
Rebekah, and her son Gideon, take a look at the new Squish: Mickey Mouse Clubhouse app from Disney Publishing.
Rebekah reports on the recent D23 event held in San Francisco to introduce the new Maleficent Infinity figure.
Rebekah delves deep into the first book in the WaterFire Saga by Jennifer Donnelly, Deep Blue. Will the new series resonate with its young adult audience?