Welcome to the next edition of Disney Extinct Attractions. My name is Cole Geryak, and I'll be your emcee on today's musical trip through the food pyramid.
Every year, Epcot hosts the International Food & Wine Festival — a two-month extravaganza dedicated to bringing scrumptious food from around the world to park guests. This festival fits perfectly into its home in World Showcase because of that area's dedication to culture and food. This year, the festival will begin on September 14 and continue until November 14 (meaning I will actually be there for it!), continuing the 21- year Epcot tradition. But Epcot's love affair with food did not begin with the Food & Wine Festival. Instead, the love actually traces its origins all the way back to the opening day of the park.
The EPCOT Center opened on October 1, 1982, the second gate of the Walt Disney World Resort and only the third Disney Park in the entire world. As you probably know, the park is unlike any other Disney Park ever created, with more of an educational focus than any other park (with the exception of Disney's Animal Kingdom, perhaps). With this differentiating factor in mind, the EPCOT Center divided itself into two separate areas: World Showcase, focused on learning about the world's cultures, and Future World, focused on both technology in the world and the world itself.
Funnily enough, today's attractions did not make their home in Epcot's current food base (World Showcase), instead taking up real estate inside of the Land pavilion. Upon the Land's opening, the pavilion was a mecca for food enthusiasts, housing two restaurants and two attractions dedicated to food. One of those attractions, Listen to the Land, still lives on today as Living with Land, but the other, Kitchen Kabaret, was not as lucky. But I'm getting ahead of myself because before the attraction can disappear, I have to tell you how it got there in the first place!
Kitchen Kabaret, sponsored by Kraft Foods, opened on the park's opening day as a musical revue centered on healthy eating habits. The show revolved around the four main food groups: proteins, dairy, grains, and fruits/vegetables. Each group came on stage to perform an act about how eating foods from it could improve your health. I really love the metaphor created by this show because each of the food groups played individually before the finale, all fun performances, but none being truly show-stopping. However, when all the acts come out for the finale, the show hit its stride and really came together. It mimics the body's reaction to food, showing that you need to combine different foods have a healthy body, just as they combined the acts to create a great show.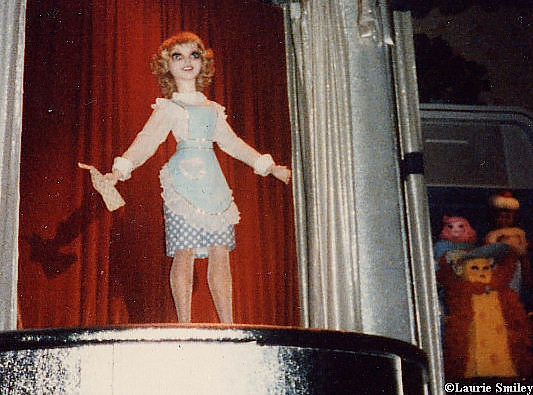 But their melody would not be possible without the help of Bonnie Appetite, the only "human" in the cast. Bonnie kept the entire cast of audio-animatronic food in order, organizing the Kitchen Krackpots, the Cereal Sisters and Colander Combo & the Fiesta Fruit, amongst others.
As you can see, the animatronics looked a bit creepy at first (especially Eggz), but as the show went on, their creepiness turned to charm (for me, at least.). Personally, I really love the look of the food because it was unlike anything that Disney had ever created before. The fact that the Imagineers could make their motions as smooth as they did really amazes me because they were animating food. To take such inanimate things and make them feel lifelike is no easy task, but the Imagineers really succeeded in this case.
My favorite performer would have to be Mr. Dairy because I never thought that a milk carton could look so full of life. Plus, he has one of the most entertaining songs in the entire show, aided by his fellow dairy products, cheese, yogurt and ice cream. In terms of songs, all of the songs in the show were original, dedicated to teaching guests about good nutritional values, albeit in a "fun" way. However, I felt that the songs did come across a bit pedantic, especially since most of the songs had a much slower tune. They simply felt like they were preaching too much, with fun falling by the wayside because of it. But I'll let you be the judge of that because you can check out Kitchen Kabaret below and let me know if I'm being too harsh on the show.
Now as you can see in the video, this show was sponsored by Kraft Foods, with Kraft sponsoring the entire Land pavilion. But Kraft ceased presenting the Land in 1993 with Nestlé taking over the duties. Having a show that still contained Kraft goods did not fly well with Nestlé, however, so Kitchen Kabaret closed on January 3, 1994 to make way for a new, exciting attraction . . .
Food Rocks! Opening on March 26, 1994, Food Rocks was unique because of the fact that it so closely resembled its predecessor, while being so completely different at the exact same time. Both attractions had an identical premise: a musical revue starring food, with the goal of helping people eat healthier. But the similarities ended there because the actual contents of the two shows were entirely unrelated. Upon first glance, the most noticeable difference lies in our faithful emcee because Food Rocks was completely devoid of "human" life.
Our friend Bonnie Appetite has been replaced by another delicious pun, the one and only Fud Wrapper. Voiced by rapper Tone Loc, our host serves in the same capacity as Bonnie, with some (w)rapping mixed in along the way. In fact, Tone Loc actually parodies his own song "Funky Cold Medina" with a food version called "Always Read the Wrapper." But Tone wasn't alone in parodying his work for the show.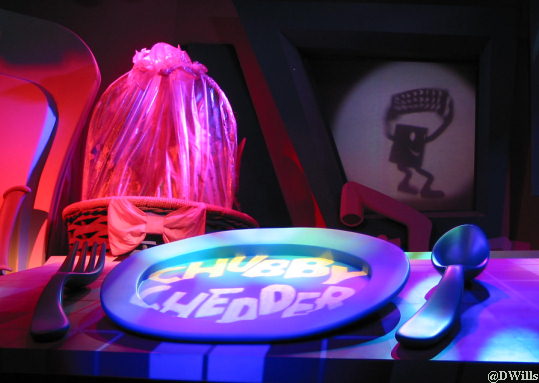 Chubby Checker and Neil Sedaka (along with a few others) lent their voices to the cast of Food Rocks, becoming Chubby Cheddar and Neil Moussaka, respectively. I really love that some of the parodied artists recorded these nutritional versions of their own songs because it truly added an authentic aspect to the entire show. Though not all of the original artists recorded new versions, all but one of the songs in the show were parodies of rock songs from throughout the ages. I personally loved this idea because 1) some of my favorite songs are parodied in the show and 2) the entire show felt extremely relatable, engrossing the audience with music they knew and loved. I do feel that part of Kitchen Kabaret's problem was that the songs were not quite catchy enough to gain a hold in the mainstream park universe, so the decision to restructure the show around parodies was a shrewd move.
Interestingly enough, the animatronics actually took a step back in this show, with each food not having much range of motion, looking more like a simple automaton. Imagine that a new dark ride was being created for Fantasyland and instead of using the groundbreaking technology seen in Ariel's Undersea Adventure, the designers decided to use the technology from Snow White's Scary Adventures. It would be such an obvious step backward and simply wouldn't make much sense. Yet, they did something similar with Food Rocks because its predecessor actually simulates the foods' movement much better than Food Rocks.
But one place where Food Rocks was definitively better was in the story department. While Kitchen Kabaret simply spliced together some songs into a musical revue, Food Rocks develops a bit of a story in its effort to teach guests about healthy eating habits. Throughout the show, a heavy metal band named Excess pops up to try and convince the guests to eat unhealthy, constantly maligning the musical guests that came before each interruption. Fud Wrapper eventually puts a stop to their actions, though, teaching guests that the key to nutrition is variety and moderation, even encouraging guests to eat sweets, albeit not many.
However, I don't want to go too deep into the story in case you want a chance to watch it for yourself. Food Rocks was a really fun show to watch, with entertaining music and pun-filled names for the performers, so I would definitely recommend checking it out if you have the chance.
Of course, all of these changes weren't enough to keep Food Rocks around forever, and the attraction closed on January 3, 2004, exactly ten years after Kitchen Kabaret closed. For the first time in the Land's career, this area would no longer be home to an attraction with food as Soarin' landed in Epcot. (Well, there was the one scene with the oranges, but let's push that out of mind.) Though, as legend has it, Food Rocks is not completely gone in the Land pavilion.
Soarin' only took the place of Food Rocks's queue, so the rumor is that the stage for the show still stands to this day, virtually untouched from the day it closed. There is no official confirmation, but I am actually inclined to believe it from the information I found online. If those rumors are true, I think it is so cool that it is simply sitting there, unused. I have a bit of a fascination with abandoned things, so I'd love to try and sneak in there one day. (Just kidding, I'll ask politely . . . maybe.)
And with that, our musical tour comes to an end and it is time to return back to the non-Disney world (unless you decide to go exploring down the wonderful rabbit hole that is LaughingPlace). But I won't leave you empty-handed, so here are some clues as to what I'll be talking about next week.
1. These attractions only occurred during one part of the day.
2. One of the attractions was extremely well-received, while the other was hated.
3. Both of these attractions replaced the same attraction, which will be retired soon.
Ok, those are a little vague, but I think you'll be able to figure it out if you think hard! Thanks for reading, and I certainly hope you enjoyed. Before coming to LaughingPlace, I was running a recurring segment where I would answer reader's questions about the Disney Parks, especially when it came to extinct attractions. I would love to bring that feature here as well, so if you have any questions, be sure to comment below or contact me at any of the links in my bio. I love hearing what you think and about any attractions you may want to me to write about, so feel free to reach out!
This is totally me! Thanks for reading and have a magical day!