Welcome back to Disney Extinct Attractions. My name is Cole Geryak, and I'll be your realtor on today's journey into the "future."
Sorry, it's taken me a bit longer to get this post out, but it was the start of the school year, and I had so much stuff to do. (I've been here two weeks and haven't even finished unpacking yet!) But I'm back now and ready to go, so hit the jump.
A few weeks ago, it was reported that two more attractions would be closing at Innoventions East in Epcot: the Sum of All Thrills and StormStruck. These closures mean that the area is all but extinct, with only Colortopia remaining in the area. Innoventions West "temporarily" closed last year (with the temporary slowly turning to permanent), so it certainly seems like Innoventions' time at the Disney Parks is coming to an end. However, the attraction did last longer than its counterpart in Disneyland, but we'll get to that later. First, we need to take a trip back to 1957, the days when Walt still roamed the park.
When Disneyland first opened, Tomorrowland was one of the most undeveloped lands in the park, not truly seeming like the world of the future. It needed a lot of work to make it the land we know and love today, so in 1956 the Skyway started the additions, adding an exhilarating way to travel from Tomorrowland to Fantasyland and vice versa. After that, the additions didn't stop with one of the most futuristic attractions appearing on June 12, 1957 — the Monsanto House of the Future.
The House of the Future was a perfect fit for Tomorrowland because it was created to showcase what houses may look like in 1986. One of the most interesting facts about the House was that it wasn't actually created to be a part of Disneyland. Monsanto, an agriculture and chemical company, began looking at a fabulous new material that they thought would be all the rage in the future housing market. They were so confident in this material that they asked a few students at MIT to design an entire house out of it. The material in question . . .
Plastic!
Anyways, Walt Disney heard about this new house and thought that it would be great in his park. Luckily, Monsanto already had an attraction in the park, the Hall of Chemistry, and they were ecstatic to bring another attraction to Disneyland. The entire house was built in pieces and then transported to Anaheim to be fully constructed there.
But we can't forget the plastic. Over 20 different types of plastics were used in the house, with the walls, floors and even seat cushions all being made out of the durable material. Monsanto was a firm believer that plastic was the material of the future, so they wanted it in full force in the house. As you know, it did not become the phenomenon that they thought it would because I have ever seen a house made out of plastic. However, they were correct on some of their other predictions about what would be in houses of the future.
The thousands of people going through the house every day got a first look at exciting new inventions such as the microwave and the speaker phone, both commonplace items today. Personally, I can't even imagine living without a microwave (though, I don't have one in my room in college). There were also new ways of refrigerating where all food items were in one large area with cold and hot zones separating items, but that idea never really caught on, unfortunately.
Park guests loved the opportunity to see these innovative new ideas, but over time it became clear that it was more of a house of the present as the world caught up faster than one would have thought. The House of the Future was set to become a part of Disney's past.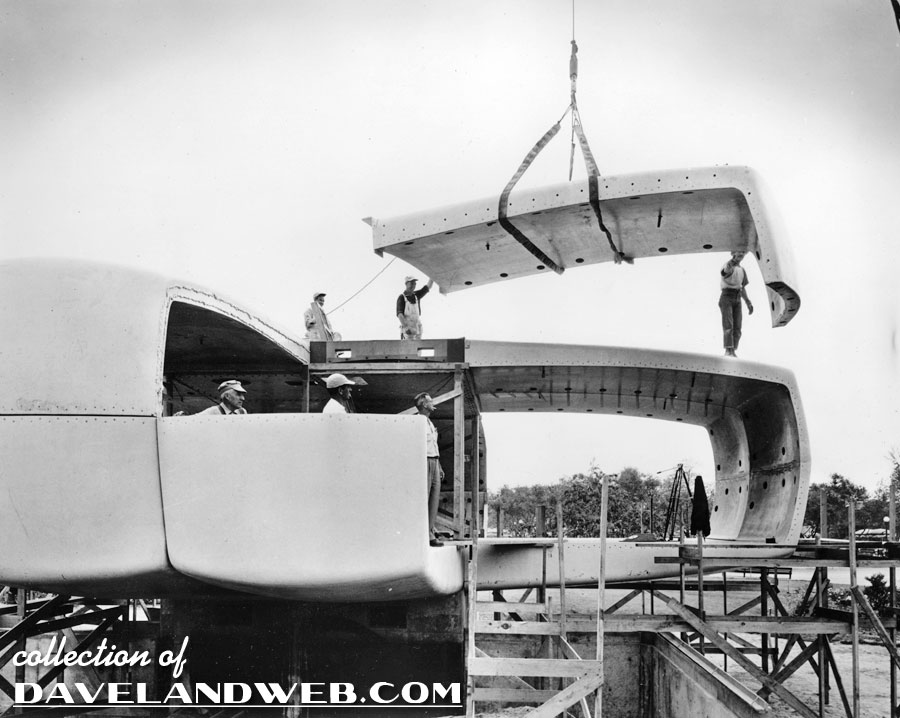 Ok, this picture was taken from construction photos, but I thought it was fitting because of how easy the construction phase was, especially compared to how difficult the destruction process was. As rumor has it, the plastic was so robust that the wrecking ball merely bounced off of the walls, leaving not even a dent in the building. The planned one day demolition slowly transformed into a two week process that involved a lot of jackhammers and chainsaws. But eventually the job was completed during December 1967, with only the concrete foundation left.
If you walk around Pixie Hollow at current day Disneyland, you can still find that foundation, now used as a planter. The green object behind the purplish plant and lamp is all that remains of Monsanto's House of the Future. Still, I think it's awesome that that piece of Disney's history remained because it is always great to see Imagineers paying tribute to the attractions that came before.
Speaking of tributes, the most direct one to the House of Future made its home in Innoventions. But, before we jump to it, we've got to talk about the attraction as a whole.
Disneyland's Tomorrowland was in the midst of its second major overhaul when Innoventions opened on July 3, 1998. Occupying the Carousel Theater (which had simply been home to office space since the closure of America Sings), the new attraction was intended to help guests learn more about the technology around them and what could be expected in the future.
Innoventions, combining the terms innovation and invention, represented a change in thinking behind attractions because there were actually multiple attractions within the theater to provide something for everyone to do. With that in mind, I am only going to highlight some of the more popular experiences offered within the area, so if your favorite area gets skipped over, it's nothing personal.
Now it's impossible to talk about Innoventions without first mentioning the wonderful host, Mr. Tom Morrow, voiced by the talented Nathan Lane. He welcomed every guest through the doors until 2012, when Innoventions began to change its modus operandi, but more on that later. I think Tom Morrow was such a cool-looking animatronic and I remember walking around the theater and following him as he greeted guest after guest. I was so sad when I went to Disneyland one day, and he was gone, but luckily we can still view his robotic presence through the Internet, so click below to relive the old days.
Once you made it past Mr. Morrow, you were thrown into a world of pure imagination. (I needed one Gene Wilder quote in there because he was one of my favorite actors and his loss still has me shaken.) They always had the latest advancements in video games, available for anyone to play for free (and I never had a video game system, so that was always so awesome to me). They also had an exhibit sponsored by St. Joseph's Health University that taught guests about health issues and also helped you find out what you would look like when you were older. But one of the coolest things to come through Innoventions was the ability to Talk to Stitch.
Opening in 2005, this attraction used the same technology as Turtle Talk with Crush, but in a more intimate capacity. Guests would enter a communication station before picking up a phone to give Stitch a ring over in Hawaii. I probably gave this a try when I was younger, but I didn't remember it at all, so when I watched the video to prepare for this article, I was floored. It was just such a unique experience because you got a chance to have this three-minute interaction with one of the cutest Disney characters out there. Don't get me wrong, I love Turtle Talk with Crush, but I wish that there were more opportunities to meet characters in the special way that you could meet Stitch. But alas, in 2009, Stitch's time in Innoventions came to an end, though you still see the groundbreaking experience by clicking below.
The crazy thing is, Talk to Stitch wasn't even the greatest addition to Innoventions in 2005 (probably because it was Disneyland's 50th anniversary party, so they were plussing everything).
ASIMO, Honda's Advanced Step in Innovative Mobility, is "the world's most advanced humanoid robot" according to Honda's ASIMO website. People rarely get the chance to see it in action, but Disneyland guests were among the lucky few who got the chance to see ASIMO for 10 whole years. I have to say, Honda's slogan does not disappoint because the robot is one of the most impressive things I have ever seen at a Disney Park. And that is saying a lot because the Disney Parks are so full of awesome things, but ASIMO really is on the same level of technology created by the Imagineers.
ASIMO's show showcased the robot's ability to help with activities around the house, while also showing off its skills of running and climbing stairs. It doesn't sound super exciting, but what makes it so exciting is how incredibly lifelike ASIMO is. At times, I was convinced it had to be a person in a suit because I just couldn't believe that any robot could actually perform some of the actions ASIMO did. (The Age of Skynet is truly upon us.) Below you'll find a video of ASIMO's show, and if there were one video I would recommend watching from this post, it is definitely this one. It features the most impressive technology, plus the story kept me entertained throughout.
So you may have been wondering what ever happened to the successor to the House of the Future that I mentioned a long time ago? Well, the time has finally arrived to discuss to the Innoventions Dream Home, which opened in 2008, finally filling the void left by the House of the Future.
The designers behind the Dream Home were smart because they reimagined the concept behind the House of the Future, instead focusing on interesting inventions in modern-day houses that they believed would be making their way into the more mainstream housing markets in the future. For example, there was a voice-activated home automation system that would control your television, lights, and other electronics for you, and I believe that it is only so long before we start seeing that as a common part of houses. We already have technology like Siri and Amazon Echo, so the computers are well on their way to infiltrating all of our houses.
But voice-technology wasn't the only awesome invention in the Home, with a Magic Mirror upon the wall that would put your image in different items of clothing, helping you decide on your outfit. It looked like a really fun way to check out clothing, and I could certainly see systems like this gaining a lot of traction in the marketplace. It could even do well at clothing stores because you could see the color on yourself before trying it on. Those inventions were awesome, but my favorite room had to be the Peter Pan-themed room for the young man of the house.
The room was so immaculately detailed, with a lot of open space for child imaginations to run rampant. I mean, who wouldn't want to sleep in that awesome pirate ship bed, complete with a projector for movies! It seems like the place to hang out, and I know I would have been inviting over all of my friends if I had that room.
Anyways, those are just some of the innoventions you could find within the Dream Home, but I don't want to bore you by going into minute detail of everything inside, so if you want a first-hand look at the whole, check below for a walk-through of the entire house.
But not all good things last forever, and Innoventions as a whole closed on March 31, 2015. A few years prior to its closing, Marvel had begun to take over the second floor of the theater, with meet and greets available with Captain America and Thor, as well as a chance to "fly" like Iron Man. So when Innoventions officially closed, all of the Marvel activities remained, and the theater was renamed the Tomorrowland Expo Center. In November 2015, the Star Wars Launch Bay made its home on the first floor of the Expo Center, and it stands there to this day. However, the Marvel presence has made its way over to Disney California Adventure, so the second floor stands empty and leaving us wondering if maybe we'll see something altogether new in the building in the near future.
And with that, our tour of the innoventive Houses of the Future comes to an end, with promising hopes for the future. But don't worry because next week we'll have a brand-new post following these clues three.
These attractions all followed the same layout, with a name change being the primary difference between them.
These attractions only appeared at one Disney Park.
These attractions all dealt with the idea of flying.
I hope you guys enjoyed this post, and I'm sorry again about how long it took me to finish it. It's been a hectic last week few weeks to say the least! Anyways, I know I missed a lot of Innoventions attractions, so I would love to hear what you thought of some of the one's I didn't talk about. Comment below or feel free to reach out to me through any of the links on my bio because I love hearing feedback from you guys!
So with that frightening image, have a magical day!