Welcome to Disney Extinct Attractions. My name is Cole Geryak, and I'll be your lifeguard on today's trip for some fun in the sun.
It's especially fitting that this week's topic was primarily a summer draw because the summer officially ends today. I'm sure many Annual Passholders are rejoicing because the parks will finally start to slow down attendance-wise. I know I would be if I was close to my favorite place in the world, rather than at school.
But I have no reason to be complaining because the end of summer also means that I'm getting closer and closer to visiting Walt Disney World again. It's only three weeks away now and I just cannot wait to get there! I'm especially excited for this trip because it will be my first trip there with just my friends. One regret is that we'll be very limited on time, so we won't be able to experience all of the non-theme park areas like Disney Springs and the water parks.
Speaking of water parks, one thing I would love to do one day is to tour the ruins of River Country (though I probably wouldn't because it is illegal), the first ever Disney water park. But I'm getting ahead of myself, so let's jump back to the 1970s and the opening of Walt Disney World.
Walt Disney World opened on October 1, 1971, expanding the Disney magic across the country. The only thing missing was the fact that the resort did not feel like a "world" because there was not much to do other than visit the Magic Kingdom. Plans immediately went into place to remedy that, adding more resorts and a zoo-type park known as Discovery Island. However, there was still no extra draw to persuade guests to make the area a true vacation destination. That is, not until River Country debuted on June 20, 1976.
River Country was the first water park ever created by Walt Disney Imagineering and, as far as I could find, the first themed water park in the world. Dubbed as the "old-fashioned swimming hole," River Country was located right near Fort Wilderness. It was designed as an area that could have been right out of a Mark Twain novel — almost a Tom Sawyer Island, but in water park form and larger.
Although in this case, larger isn't saying much because the park was notorious for its small size, barely holding 4,700 guests at a time. The park consistently had to close its gates early because it was simply too full to allow anyone else inside. On the other hand, the fact that it closed its gates at all shows its popularity, fulfilling its purpose of making Walt Disney World a tourist trap destination.
Learning about River Country, the thing that fascinated me the most was the fact that there was so little regulation to ensure the safety of guests. The above picture looks a lot like a lazy river because of the number of guests crammed into it at once, but it was actually a tube slide called White Water Rapids. There was no attempt to stop guests from piling onto the slide, causing literal traffic jams where people couldn't move along. Nowadays, you can't even ride a tube slide until the group before you have pretty much completed their journey, so it was astounding to me that there was no extra regulation for safety purposes. (To be honest, though, I would have loved experiencing the freedom of riding the attraction because being able to do that on a slide has long been a dream of mine.)
Outside of the Rapids, many of the attractions were much safer, with multiple kid areas, some simple body slides (though I saw pictures of people going down these headfirst), a few pools, and even a nature trail. But there was one other exception to the rule, the Slippery Slide Falls.
I mean, just look at that water slide. It was a short slide that dropped you seven feet into the water. I have never seen anything like it before and I am so truly amazed that it even existed. Honestly, I wish something like it was still around because I would go on it every time I was there.
Unfortunately, the poor safety at the park did eventually have negative effects as two people drowned at the park over the years. Because of the layout of the pools, it was difficult to have lifeguard chairs placed everywhere they were needed, so lifeguards had an extra long swim to save people requiring help. The water was also up to six feet deep in many places, making it a difficult place to navigate for light swimmers.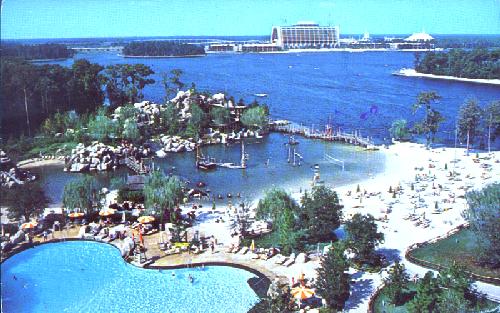 Sadly enough, those weren't the only causalities as a result of being at the park. As you can see from the picture above, the main swimming area, Bay Cove, was connected to the Bay Lake that everyone knows and loves from Walt Disney World. Water was taken from the lake and filtered before being used in the swimming holes of River Country. Personally, I trust that Walt Disney World will keep me safe, but I would definitely feel uneasy swimming around in water that I knew had come directly from an unclean lake next door. Those doubts came true in 1980 when an 11-year old boy was allegedly killed due to contracting a virus from swimming at River Country. Disney assured guests that it was a fluke incident and, luckily, they were proven right when no one else was killed due to that virus during the rest of the time that the park was open.
Fortunately, those tragic events did not stop guests from continuing to visit River Country, even when Disney officially opened its second water park, Typhoon Lagoon, in 1989. But they didn't stop there because Walt Disney World also welcomed Blizzard Beach in 1994, giving guests three choices when they wanted to play in the sun all day. Amazingly, River Country persevered, though it's attendance did start to drop.
Disney called on its mascot, Goofy, to hold an All-American Water Party at points throughout the 1990s to help boost attendance as the older park started to lag behind the new water parks. One of the coolest parts about Goofy hosting the festivities is that, the silly guy he is, he would don a bathing suit and ride the slides with guests. Sometimes the characters ride attractions in Fantasyland with guests at the end of the night, but I had never heard of a character on a water ride before, so that must have been quite a sight.

But the water party wasn't quite enough to raise attendance and the park ultimately closed on September 1, 2001. The primary reason for the park's closure remains unknown to this day, but it seems to lie in a combination of attendance drops, a change in Florida laws that strictly regulated how clean water had to be in water parks, and the effects of 9/11. Even though the park closed for the season before the attacks, the tragedy's major effect on tourism (with many people suddenly afraid to fly) may have been a contributing factor in the park never reopening.
Disney kept fans of River Country in suspense for years, though, because the park was not officially closed until January 20, 2005. Executives had released statements saying that if there was enough demand it would reopen, but clearly that demand never appeared.

And now we've arrived at one of the most interesting facts about River Country and part of the reason why it is so well-known. When Disney closed the park, they simply left it to rot, not bothering to demolish any of it. That means that even today there sits an entire abandoned water park on Walt Disney World's property. I think that is so cool because it doesn't fit with the typical Disney modus operandi, truly helping it leave its mark on our hearts. While not legal to walk around the area, there have been some mischievous souls who dared to sneak around, so I'll share some of their pictures of the area as it looks today.
I love all of these pictures because they are a great illustration of what happens when nature takes over. That theme is one of my favorite to study and see pictures of because everything looks so eerily awesome in them.
It's hard to believe that it has been 15 years since the park closed and nothing has materialized yet to replace this once beloved park. For a while, it looked as if the land was going to be used to create a new Disney Vacation Club Resort. For now, it looks like those plans have stalled as nothing has appeared in the area yet. However, not even a month ago, Disney announced that it would be draining and filling in Upstream Plunge, one of the pools in the area. The move was made since the pool is so close to Mickey's Backyard BBQ, an eating area near the Ford Wilderness campground. Disney, smartly, wanted to avoid a potential liability of a child accidentally sneaking in and injuring themselves. Other theories suggested the project was moved up the list due the threat of Zika and mosquitoes being attracted to the standing water.
Even with that announcement, there is still no word on what may ultimately replace River Country. The move to fill in the pool is promising, though, because it means that Disney does still know that River Country is there and will eventually do something with the area one day. Personally, I would want a reimagination of River Country that keeps all of the classic elements of the water park, but with the polish that Blizzard Beach and Typhoon Lagoon have.
So you may be wondering where the video is this week because I usually leave you with some footage. It is very difficult to find full footage from a water park, so instead I'm going to leave you with this video from Bright Sun Films, a YouTuber who routinely posts about abandoned places, especially Disney-related. There is some neat footage in the video, and a lot of great information, so click below to see more.
And with that, we end our water park day with a big splash into the pool. But dry off soon because next week will be another throwback Thursday, with the post revolving around these three clues
1. The replacement to this attraction opened this past summer.
2. This attraction adapted a Disney Animated Classic (as did its replacement).
3. This attraction could only be found in one park.
As always, I hope you enjoyed reading and that I could help you learn something new today. Feel free to reach out in the comments below or through any of the links around my bio because i truly loving hearing what you all have to say!
And with that Disney meme of the week, have a magical day!