Welcome to Disney Extinct Attractions. My name is Cole Geryak, and I'll be your DJ on today's journey into the near past.
This week, Disney announced that they would be expanding the number of days for the Lunar New Year Celebration at Disney California Adventure. A celebration of food and music, this new tradition helps solidify California Adventure as a standalone park with more to offer than meets the eye. Including these celebrations of other cultures truly helps diversify Disney's offerings, a fact that I love because it shows that Disney is not trying to Americanize itself.
But now that we've had that glimpse at DCA present, it's time to jump back to the past and look at some of the park's other offerings.
To start, Glow Fest took over Hollywoodland on June 11th, 2010. Originally created to help contain the crowd for World of Color, the nighttime party featured great DJs playing some of today's biggest hits. Guests could travel throughout all of Hollywoodland singing and dancing with their friends.
Additionally, Glow Fest served its role as a distraction perfectly because its location at the front of the park kept people from wandering toward the headlining show at the back.
As you can see above, Hollywoodland was completely overhauled with brightly-colored decorations. It definitely would have been a bit jarring to walk through there as a first-time visitor to California Adventure. I know I'm glad I don't have many memories of it because I feel like I would have been so overwhelmed by how much it had changed.
To be fair, the decorations were not Disney's own as the entire event was created by an outside firm, Kreate, Inc. It is extremely rare for Walt Disney Imagineering to not be involved in creating an experience in any way, so it is no surprise that Glow Fest always felt relatively temporary, merely a holdover to tide the World of Color storm.
One of the most interesting parts of the entire experience was the prevalence of alcohol throughout all of Hollywoodland. This decision was unlike anything that Disney had ever made in their parks before, especially when compared to the fact that the original park across the way still doesn't sell alcohol (save Club 33, of course). Then again, Disney California Adventure as a whole has never shied away from serving adult beverages, so it does make more sense in that context.
The nighttime party also included food trucks, something that I wish we would still see in the parks (though I may be the only one). Food trucks are so authentically Southern Californian that I think they would really in with the theme of the park.
Crazy enough, Glow Fest was actually rated higher than World of Color by guests at exit polls by a score of 9 to 8.5 (out of 10). It's amazing that this little temporary attraction could score than the park's next headlining attraction (though I think the alcohol in those rating it may have helped a bit).
But high ratings were not enough to keep Glow Fest around. The experience ended on September 6th, 2010 to make way for a brand-new nighttime dance party.
ElecTRONica joined the California Adventure family on October 8th, 2010. This time, Disney created the entertainment themselves and boy did they impress. Initially created to tie in with the film Tron Legacy, the world of Tron had a huge impact on the entertainment options that the Imagineers created for the area.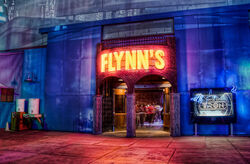 In one of the soundstages of Hollywoodland, the Imagineers created their own version of Flynn's Arcade, full of popular arcade games, both new and old. For some reason, I have no recollection of ever going in there, but from what I have heard, it was pretty much heaven for gaming fans.
In addition, there was a preview of the film Tron Legacy in the MuppetVision 3D theater when ElecTRONica first opened. It was one of the first times that Disney had temporarily replaced one of its 3D shows with a movie preview, a trend that continues to this day.
But one of the biggest highlights of the entire spectacle had to be the shows. Rather than simply having a DJ playing some of popular music's biggest hits, ElecTRONica also featured Laserman. I know, Laserman is a silly name, and it's just lasers so how could his act be so cool? If you set those thoughts aside and watch his show, I think you'll be surprised by how cool the show actually was. He does a lot of things that you would not expect, and he definitely kept me entertained, so check out the act below.
One other really cool thing that ElecTRONica was known for was bringing in some of America's hottest dance crews to perform for guests. The entire experience focused on joining the grid through elecTRONic music and what better way is there to do that than by watching some of the coolest looking dance troupes show off their best work.
The group below is particularly talented, so here's your chance to relive old memories or make new ones by checking out the video below. (Note: This video may inspire you to want to join a dance troupe.)
Eventually, Tron Legacy became a bit outdated, so the experience closed its doors on April 15th, 2012 with a final competition about which dance crew was the best. But the fun wasn't over yet as preparations were made to replace ElecTRONica with a party based on another live-action Disney film.
Tim Burton's Alice in Wonderland was a bonafide blockbuster, grossing over a billion dollars worldwide. Naturally, Disney began to integrate the film into its parks, starting with the Mad T Party on June 15th, 2012.
The Mad T Party decreased the scope of the decorated area, focusing primarily in the courtyard in front of Monsters, Inc. Mike and Sulley to the Rescue as opposed to all of Hollywoodland. The entire area was decked out in mad decorations that actually felt right at home in its little corner, looking as if it had been there for years (which eventually it had). Keeping the decor contained was a great idea, as it allowed the street to be relatively clear and maintain the integrity of Hollywoodland.
The Mad T Party was the home to a few different musical guests including Tweedle Dee and Tweedle Dum dancing to some hip hoppity music with some of their friends. There was also the White Rabbit DJ, who would entertain guests before the headlining Mad T Party Band.
Made up of Alice, the Mad Hatter, the March Hare, the Doormouse, the Cheshire Cat, and the Caterpillar (my personal favorite Disney character, fun fact), this band played some of the biggest hits from yesterday to today. All of the musicians involved performed at Disney all the time, and if you looked hard enough (or went to Disneyland enough), you could actually recognize them playing at different Disneyland areas, too.
For instance, the Caterpillar was the pianist of the group and one of the main Caterpillars is also one of the primary pianists for the shows at the Fantasy Faire.
But before I go on and on about the band, click below for the chance to relive one of their best performances. If you like music between 1980 and 2016, it's definitely worth a watch.
Anyway, I was a huge fan of the Mad T Party Band, seeing them almost every single time when they were around. (Though, they couldn't quite top 80z All Stars for me.) They played all of the music that I loved, and I can safely say I was never disappointed by one of their shows.
In fact, my friends and I saw it so many times that we noticed which performers were there that night and had special nicknames for them. (Our favorites were "Ty Burrell" and "Paul Rudd" because the musicians looked just like them.)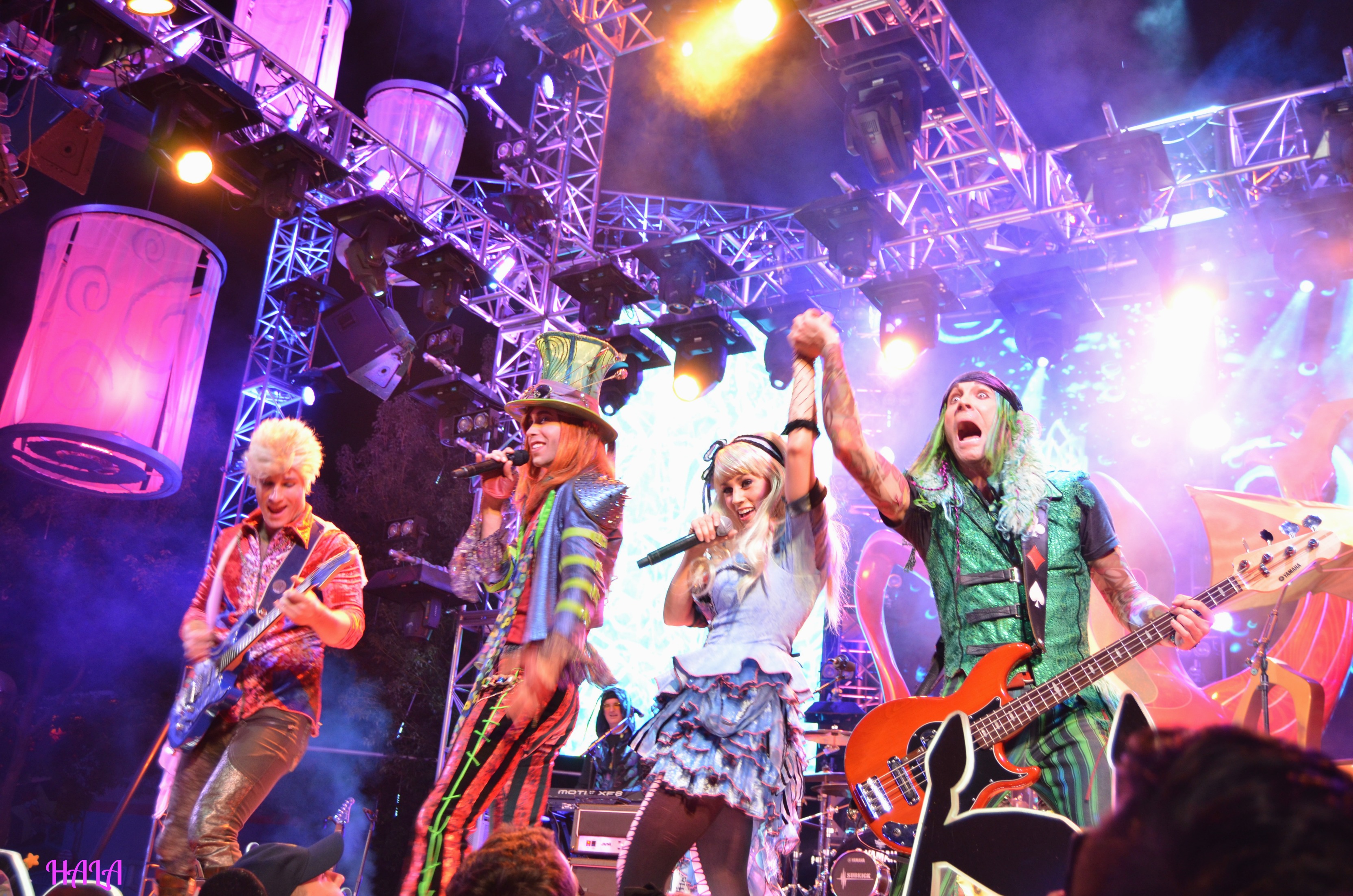 Anyways, you can imagine my disappointment when I learned that this awesome ensemble would be leaving us on November 30th, 2014. Frozen Fever had taken over that part of the park, so a show called Freeze the Night took over nighttime entertainment duties.
But no need to fear because the Mad T Party Band was back and ready for action to celebrate the Diamond Anniversary on May 22nd, 2015. I took the opportunity to watch the show a lot over that summer because I didn't know how long it would last. (Plus, Alice in Wonderland is my favorite Disney Animated Classic, so I couldn't get enough of seeing some of my favorite characters.)
Unfortunately, that time was cut short as the Mad T Party officially ended on March 30th, 2016. Thanking about it now, I'm a bit surprised they closed it a month before the newest Alice in Wonderland live-action film was released, but maybe they knew the movie was going to flop.
It was beginning to feel a little outdated though, so the decision was made to replace it with a new show called Jammin' on the Backlot, which played hit music from DJs at the same stage. Its loyal audience was definitely upset, but I think I speak for all of us when I say we are happy we at least got it for another nine months.
And sadly, that brings our tour of Hollywoodland nighttime entertainment to a close. But next week we'll be back with a brand-new experience for everyone to enjoy, and here are some clues as to what that will be.
This extinct land graced the original park, while Walt still walked there.
It was the only place on Disney property that sold beer when it was open. (Sorry, to continue that theme, but it just happened to work out that way.)
It was replaced by two of the greatest attractions ever made.
Thank you for reading, and I hope that you enjoyed the post. The Mad T Party was one of my favorite experiences, so I'm really glad I had the chance to finally share it with you.
Thanks again for reading and have a magical day!