Welcome to Disney Extinct Attractions. My name is Cole Geryak, and I'll be your guide on today's holiday journey through Disneyland of yore.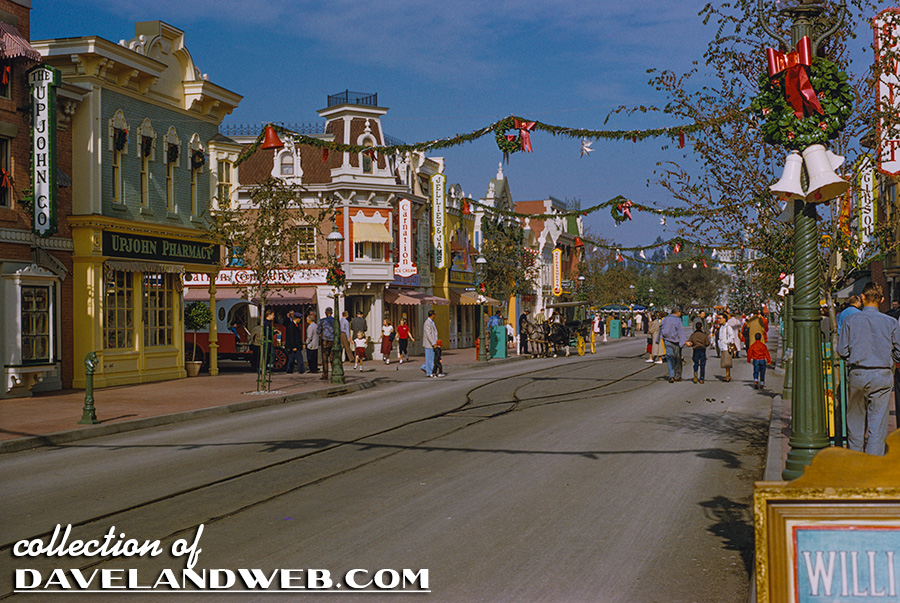 The holiday season is in full swing at the Disneyland Resort with decorations everywhere around the parks and Downtown Disney. I finally managed to make it back after my school semester ended, and everything looked as beautiful as always. I especially love all of the overlays that Disneyland does, completely taking over the Jungle Cruise, it's a small world and the Haunted Mansion.
If you've never had the chance to see the parks in this way, it's definitely something I recommend doing at some point in your life. Disneyland during the Christmas season is one of the most magical experiences in the world, and it's not Christmastime for me until I visit.
Disneyland has celebrated the holidays since the park's earliest days. There has been a Christmas parade through Disneyland since the late 1950s, one of the first parades to run through the park. But most of the Christmas spirit at the parks was seen through simple decorations or the parade, not extensive overhauls of attractions like we see today. In fact, the addition of the overlays is a relatively recent phenomenon, with the oldest being it's a small world Holiday, celebrating its twentieth anniversary this year.
For this week, I was trying to find some older Christmas attractions to write about, but it was tough because there really aren't many holiday overlays of yesteryear (with one of the exceptions being the Country Bears). Because of that, I had to look elsewhere for some "holiday" inspiration, but luckily that kept us in the Disneyland Resort. So without further ado, let's jump back to 1957 and the origins of Holidayland.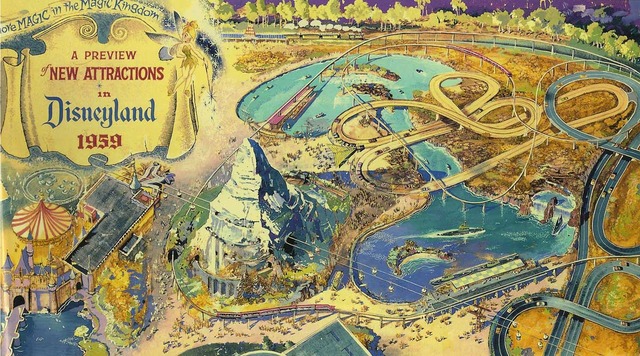 If you are reading this post, you are probably familiar with the 1959 expansion of Disneyland that added the Matterhorn, Submarine Voyage and Monorail. But what you may not have known is that the area was initially slated to be a picnic area, dedicated to the celebration of holidays.
While there would not have been specific attractions dedicated to these holidays, the space would have received extensive theming during the holiday seasons to bring a more festive feel to the park. The land was going to be known as Holidayland (fitting, I know). However, the idea never panned out in that location, instead taking up real estate around where New Orleans Square is currently located.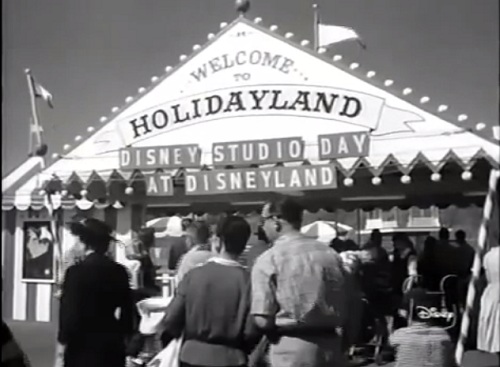 Holidayland joined the Disneyland Resort on June 16, 1957. Commonly known as the "lost land of Disneyland," this area was still a picnic area, but it dropped the whole holiday theme (making the name kind of a mystery). With playgrounds, horseshoes, and baseball fields, this area felt more like traditional amusement parks of the time.
In the early days of Disneyland, Walt was still trying to figure out exactly what Disneyland would be, so some of his initial ideas were more reminiscent of an amusement park than a theme park. Obviously, Walt eventually found his groove and created an experience completely unlike anything created anywhere else (except Orlando, Tokyo, Paris, Hong Kong and Shanghai many years later).
The map above gives a general view of how the space was laid out (though ignore it saying New Orleans Square on the right because that was not around yet). The giant picnic tent in the middle brings to mind the tent used for the Mickey Mouse Club Circus, a show placed in Disneyland to help draw guests to the park in 1955. (Ironically enough, the circus grounds were known as Holidayland for the two months that the circus was there.)
Anyways, the nine-acre space could actually hold about 7,000 people, so it was perfect for gatherings of large groups of guests. Many companies would have their summer parties there, giving guests the opportunity to experience a taste of the Disney magic. However, the space was not used for much more than those parties, so it was generally abandoned during the week as people had to work.
In general, Holidayland was more adult-centric, even serving beer to guests visiting the land. (This service did lead to some problems with drunk guests entering the park itself, something I'm surprised we don't see more of in California Adventure today with alcohol prevalent there.)
I can only imagine how tough it must have been to be a kid running around Holidayland at your parents' company picnic with the Happiest Place on Earth right next to you. I actually managed to find a great little video of famous Imagineer Tony Baxter talking about just that type of experience a few years ago at D23. He has a very satirical take on the whole land, so I definitely recommend checking out this short video because it actually made me laugh out loud a couple of times, while also giving a great overview of Holidayland.
As you can tell from what Tony and I have talked about, Holidayland was never the most popular place at the Disneyland Resort. It also lacked shade, nighttime lights and restrooms, culminating in an area that simply didn't feel Disney. Therefore, it was no surprise when the area closed in September of 1961.
The area sat empty for the next few years until work finally began on Pirates of the Caribbean and the Haunted Mansion, both of whose show buildings ultimately took over a lot of the space. But the idea of a Holidayland wasn't extinct quite yet.
The EPCOT Center debuted in 1982, bringing with it the World Showcase, a testament to many countries from around the world. The area is a theming masterpiece and a major part of what makes Epcot Epcot. But the Imagineers also thought that it would make a great addition to the West Coast, so development on a Disneyland version occurred simultaneously with the creation of Epcot.
At the time, the Disneyland Resort was still only comprised of the original park and a hotel, with California Adventure not even a spec on the horizon. After careful consideration, Walt Disney Imagineering determined they had enough space behind the show buildings for the Haunted Mansion and Pirates that they could build a simplified version of the World Showcase there. (It's almost too fitting that the space they chose was exactly where Holidayland had been located.)
Guests would have traveled in a special tunnel under the berm and emerged into a whole new world celebrating some of the world's holidays, known as World Holiday Land. The area was going to be incredibly detailed in each country, with every nation perpetually celebrating the holidays with its own cultural traditions.
The new land was actually going to have an attraction for each country represented including a Medieval attraction in London, an adventure ride in Scandinavia and shows in Paris and Bavaria. (The Scandinavian adventure actually went onto become Maelstrom a few years later.) It would have been a true haven for attraction fans because that is a LOT of stuff to jam into that relatively small area near New Orleans Square.
I really wish we had gotten World Holiday Land because it would have been great to see a part of World Showcase come to Disneyland. (Though, we did almost get WESTCot, but that's a story for another day.) The idea was such a fresh take on an idea that we know and love, so I'm sure it would have been one of the more original lands in Disneyland.
And with that, our look at Holidaylands of old comes to a close, fittingly with more of a focus on holidays than the Holidayland that actually existed. So now here's your usual look at what's coming up next week.
The preshow for this attraction was directed by the same people who directed Beauty and the Beast.
This attraction only appeared in one park.
This attraction opened along with its land (though both are closed now).
I hope you guys enjoyed this post because I had a lot of fun putting it together. There was definitely a lot more to Holidayland than I had known. (I had never even heard of World Holiday Land.)
I hope you all have some happy holidays and a great Festivus tomorrow. And as always, have a magical day!