Welcome to Disney Extinct Attractions. My name is Cole Geryak, and this week I'll be your RX-24 as we look back at an attraction that has never truly left us.
Rogue One: A Star Wars Story continues to be a successful for Walt Disney Studios Motion Pictures. The film is well on its way to becoming the highest-grossing film of 2016 and only the seventh movie to ever gross $500 million domestically (not adjusted for inflation). That's not too shabby for a standalone Star Wars film that doesn't include any Jedi and only includes some of our favorite characters in small doses.
With that in mind, Star Wars fever is still around in full force, carrying over from last year's release of The Force Awakens. It is thus especially fitting that this past Monday, Disneyland celebrated the 30th anniversary of Star Tours. But the Star Tours that we see in the parks today is different than the Star Tours of 30 years ago, so join me for a look back at the original attraction.
Our story begins in 1986, with the hit show Captain EO. Produced by George Lucas, this attraction instantly became a hit worldwide, cementing Lucas and Disney's relationship. Elsewhere in Disneyland, Adventure Thru Inner Space had just closed, and Disney was looking for a new E-Ticket attraction to replace it.
For a long time, Walt Disney Imagineering had been playing around with the idea of a motion simulator. In fact, some (including me) view Flight to the Moon and Mission to Mars as primary precursors to this idea of matching motion with visuals to create an all-encompassing experience. Eventually, technology finally caught up with the Imagineers' imaginations, and they thought Star Wars would be the perfect property to showcase this new ride system. A few Imagineers went up to visit Lucas at Skywalker Ranch, taking advantage of their fruitful relationship after Captain EO. It didn't take much convincing to get Lucas on board, always one to further the Star Wars brand and make a little extra money. In fact, he actually even agreed to help make the film for the attraction, bringing in a few Imagineers to help with the story. (And it was a good thing too because the original script would have made for a 20 minute ride!)
Meanwhile, Disney started the hard work of perfecting the motion simulator they would use. The Imagineers decided to use a system known as the Advanced Technology Leisure Application Simulator (ATLAS). This being their first time utilizing a true motion simulator, Disney knew they had to prove their chops and do the job right.
One of the perks of the ATLAS system is that it allows for six degrees of freedom, simulating most types of movement. However, the Imagineers had a bit of trouble matching up the film's visuals and score with the movement at first. To counteract that issue, they actually placed a programmer with a joystick in the simulator and played the film. The programmer would use the joystick to sync all of the elements "live," creating the immersive experience we knew and loved.
After all that hard work, Star Tours was finally ready for its first launch at Disneyland on January 9, 1987. In celebration of this ground-breaking attraction, Disneyland stayed open from January 9 at 10 AM until January 11 at 10 PM, a full 60 hours. That is one of the longest times, if not the longest, that Disneyland has remained open and operating consecutively. (I couldn't find a longer time anywhere else, so if you know of any longer be sure to let me know.)
When Star Tours opened, it actually contained a few Easter eggs that highlighted past Disneyland attractions. Though it hadn't closed yet, America Sings was actually represented in Star Tours by the G2 droid that you see above on the left. There are two of these droids in the queue, both of whom's skeletons actually came from geese in America Sings. (Unfortunately, America Sings closed a year after Star Tours opened, but most of the other animatronics live on today in Splash Mountain.)
Currently, these droids still stand in the queue, and if you listen carefully you may be able to recognize at least one of their voices. The droid pictured above is voiced by Tom Fitzgerald, one of Imagineering's top executives, while the other is portrayed by Patrick Warburton. You may know Warburton from his work on Seinfeld, The Emperor's New Groove, or as the host of Soarin'.
Star Tours also included a tribute to its Disneyland predecessor, Adventure Thru Inner Space. In the bottom left corner of the picture above, you can catch a glimpse of the Mighty Microscope, the tool used to shrink guests in the attraction. I love when Disney adds little tributes to its past into attractions, and it really is especially fitting in this occasion. (Ok, I may be a little biased because Adventure Thru Inner Space is my favorite extinct attraction, but it's still awesome.)
Speaking of the actual Star Tours experience, let's dive a bit deeper into what happened during the ride.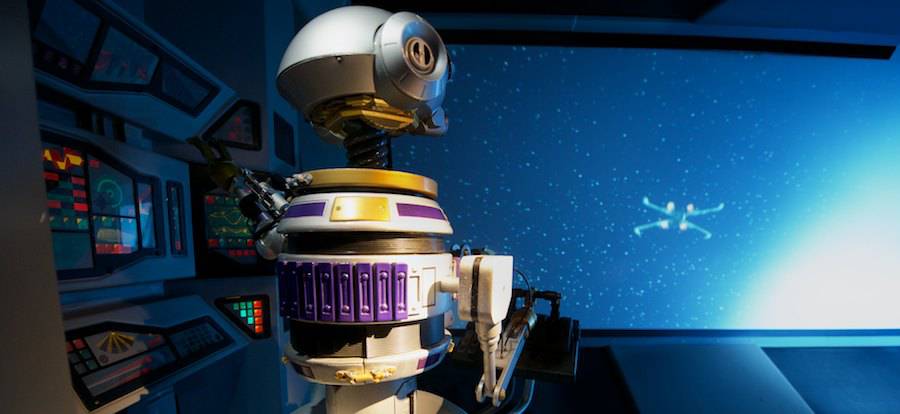 To start, you joined the new pilot RX-24, better known as Rex. Your flight was Rex's first flight ever, so you knew from the outset that there might be a couple of hiccups along the way.
Rex was voiced by Paul Reubens, best known for his work as Pee Wee Herman. His voice fit the role perfectly as you really empathized with Rex during his attempts to get guests to Endor safe and sound.
Amazingly enough, Rex actually got a chance to appear in an early episode of the television show Star Wars Rebels. As a huge Star Wars and Star Tours fan, I geeked out the entire episode because they did such a great job with the cameo, even bringing back Paul Reubens to voice Rex. Rex was such a pivotal part of the attraction and a major reason why it was always so much fun to ride, and they treated him so well on the show.
So now that you know a bit about Star Tours' history, let's take a ride on the attraction itself.
I have to tell you, I absolutely love the original Star Tours film. It was always one of my favorite attractions at Disneyland, and I would try to ride it every time I was there. (It helped that the attraction's lines really receded as time went by.) As a huge fan of the original trilogy, it was so amazing to think I was going to Endor, but then end up in the middle of a giant space battle instead. Plus, you got to experience the trench run in the flesh, one of the coolest things that could ever happen to a Star Wars fanatic.
Most people seemingly loved Star Tours as much as I did, as it went on to become one of the most traveled Disney attractions, truly cementing its place as a Disney classic. In 1989, Star Tours joined Tokyo Disneyland (July 12) and Disney's MGM-Studios (December 15). It also followed along at Disneyland Paris as an opening day attraction on April 12, 1992. (For some reason, Paris is always just slightly behind on everything that gets added.)
The heavy crowds that the attraction had at Disneyland quickly followed over to each of these resorts, as well. In all of these parks, Star Tours was the first motion simulator, so guests were consistently amazed at this relatively new piece of technology.
One other interesting fact about Star Tours is that it was the first time that Disney had ever created an attraction around licensed intellectual property that they did not own. Since then, it has become a lot more common as seen by attractions like Indiana Jones and the Temple of Forbidden Eye and the Great Movie Ride, but it was unheard of then.
But as you probably know, that fact has slightly changed now as Disney is the proud owner of Lucasfilm. Funnily enough, Bob Iger actually first discussed the possibility of purchasing Lucasfilm with George Lucas after the festivities surrounding Star Tours' replacement, Star Tours - The Adventures Continue.
As I mentioned earlier, Star Tours began to lose some popularity as the technology became more common. But Walt Disney Imagineering had a plan to revitalize the attraction with a complete facelift. In this way, Star Tours has never really left us, but Star Tours - The Adventures Continue is considered an entirely new attraction, and it really does feel like one, too.
Gone are Rex and the original film, instead replaced by C-3PO and a series of different clips that can be combined in more than 50 different ways. Admittedly, the new version is a better attraction, but I miss "Lightspeed to Endor" every time I ride The Adventures Continue. (Plus, I hate that Naboo is a sequence because I absolutely hate having to see Jar Jar when I'm at Disneyland.)
At this point in time, Star Tours has officially left each of the Disney parks that it called home. It first closed in Disneyland on July 27, 2010, closely followed by Hollywood Studios on September 2, 2010. Each of these parks hosted a special event to commemorate the closure of the original version of this iconic attraction, events I wish I could have attended.
Tokyo Disney next made the transformation, closing Star Tours on April 2, 2012. And finally, Disneyland Paris closed its version on March 16, 2016 (joining the party a little late again, I know). The Adventure Continues still hasn't even opened in Paris, so we'll see if the resurgent popularity of the attraction in America and Tokyo continues in France when it opens later this year.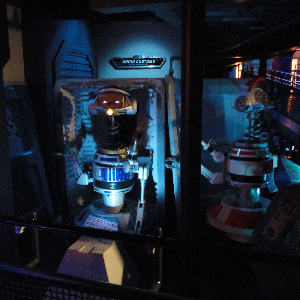 If you are like me and still miss our good friend Rex, rest assured because you can still find him in the queue for Star Tours - The Adventure Continues (in Disneyland and Hollywood Studios, at least). If you listen closely, sometimes his speech gizmos still work, and you may catch a few phrases you recognize.
Luckily for us, so much of the original Star Tours still exists and is around for our enjoyment today, making the loss of the original film easier. Though, I would love it if just one of the simulators would show the old film for those of us wanting to feel nostalgic.
And that brings our attempted trip to Endor to a close, so I guess I owe you some clues for next week's attraction.
This attraction only appeared in one American park.
This attraction shared a name with the area it was located in.
This attraction was replaced by an attraction based off of a Pixar film.
I hope you guys enjoyed this week's post because I know I had a blast revisiting Star Tours. I also love hearing any questions, comments, stories you all might have, so don't be afraid to reach out. You can find me on any of the links located in the bio or just comment below!
And as always, thank you for reading and have a magical day!