Welcome to Disney Extinct Attractions. My name is Cole Geryak, and this week I'll be your guide through some low-flying attractions.
I have to start off with a quick recap of how great of a time I had at the Main Street Electrical Parade Party. It was super special to be one of 4,000 guests in the park, with the small capacity leading to a great view of the parade from "it's a small world." During the parade itself, there were a few unruly guests near me, but I met a few new friends and the night ended up a huge success anyway.
All of the lines for the rides were virtually nonexistent, plus they reopened Haunted Mansion specifically for the event. There were photo opportunities with the floats itself, one of which you can see above (sorry the quality isn't great). It was truly a night of amazing memories, and one I will never forget.

I'm so happy the Main Street Electrical Parade is back at Disneyland because it's my favorite parade of all time. It first debuted at Disneyland in 1972, but we are going to have to go even further back to reach the first of our attractions of the day.
In 1959, Disneyland introduced the E-Ticket with three new major attractions: the Monorail, Matterhorn Bobsleds and Submarine Voyage. The E-Ticket designated that the attraction was one of the best in the park. In addition to those three attractions, Disneyland also expanded the E-Ticket designation to attractions such as the Mark Twain Riverboat and the Jungle Cruise.
With this designation in place, guests of Disneyland eagerly awaited the park's next E-Ticket attraction. Luckily, they did not have to wait long as the Flying Saucers arrived on August 6th, 1961.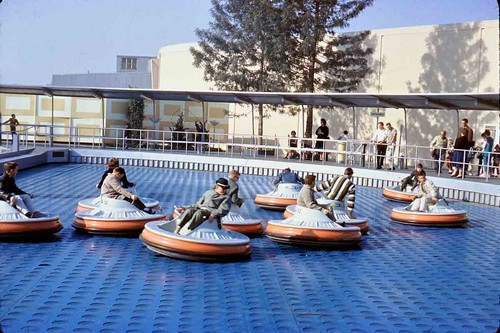 Always the innovator, Walt was looking to create an attraction unseen anywhere else. Honing in on the alien craze that began with the Roswell incident of 1947, Walt decided to bring the idea of space to Disneyland.
To make the actual attraction, Walt called upon his friends at Arrow Development. The two companies had a long relationship, as Arrow had helped create the ride systems for attractions such as Mr. Toad's Wild Ride and the Matterhorn Bobsleds. Walt knew that if any company could make the Flying Saucers work, it was Arrow.
Using the vehicle designs of Disney Legend Bob Gurr, Arrow created a system in which each saucer would float a few inches above the ground. Guests would sit by themselves and tilt their bodies in an attempt to move the saucers all around the area.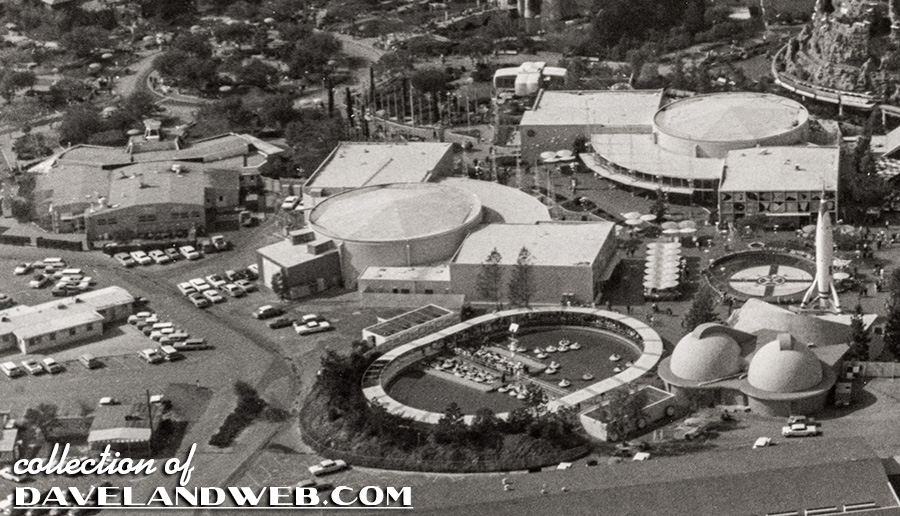 As you can see from this picture above, there were actually two separate areas for the flying saucers to float around. One area would load guests, while the other side would give guests the chance to actually experience the attraction. The areas would alternate between running and loading to keep the capacity a little bit higher. I know it sounds a bit confusing, so if you need some clarification you can watch the video below, which also has shots of the attraction itself.
These saucers looked like they would have been a lot of fun to ride and moved relatively well. However, there were issues for younger guests because they didn't quite weigh enough, so they would sometimes simply bounce around like a rag doll. I also really loved the way that guests loaded onto the attraction, though it did have its drawbacks as there could only be 32 guests on the attraction at any given time.
Unfortunately, the slow loading was only the beginning of the problems, as the attraction was also very expensive to run every day, constantly needing maintenance. The system was not quite perfect because it was still very experimental technology that was temperamental.
Sadly, that meant the Flying Saucers were one of the first attractions to go on August 5th, 1966 to make way for New Tomorrowland.
The area transformed into the Tomorrowland Stage (not to be confused with the Tomorrowland Terrace), where it stood for nearly 20 years. Today, it is home to the Magic Eye Theater and part of the queue for Space Mountain, meaning another space age attraction eventually made its way there.
But the history of the Flying Saucers wasn't quite over yet, as they made an appearance of sorts years later in a park only a few hundred feet away.
Upon its opening in 2001, Disney California Adventure was seen as one of the weaker parks that Disney had created (especially compared to the magnificent park, Tokyo DisneySea, that also opened that year in Tokyo). The California theme definitely limited the park at first, plus the park had a distinct lack of Disney elements. It took a few years, but eventually Disney announced that the park would be receiving a billion dollar expansion including a highly-anticipated Cars Land.
Cars Land was going to be home to a full recreation of Radiator Springs, complete with restaurants, shops and the E-Ticket attraction, Radiator Springs Racers. But that wasn't the only attraction in the land, which also featured Mater's Junkyard Jamboree and our second attraction of the day, Luigi's Flying Tires.
Opening along with Cars Land on June 15th, 2012, Luigi's Flying Tires was directly inspired by the Flying Saucers. The legacy of the Saucers had only grown over the years, so Disney fans were excited to see these fliers returned in any way possible.
There was only one issue with the attraction, it barely worked. After the fact, Imagineering did come forward and say that the technology still wasn't quite there yet, with this seemingly straight-forward concept actually being one of their toughest engineering projects to date.
One of the biggest issues with the attraction was how big each of the tires were, with each seating two to three guests as opposed to one with the Saucers. These guests needed to move in unison to help their tire along, but it was not as easy as it looked. The Imagineers' heart was in the right place as they tried to solve the capacity issue, but the solution was not quite there.
But Disney was not to be deterred as they added beach balls into the mix a few months after the attraction opened. At first, the balls seemed to add some morale, but then they began to hit people in the face, so they were quickly removed after that.
If you were wondering about what this attraction was really about, then just check out the video below.
I remember riding this attraction when it first opened and being extremely disappointed. I have to admit that I am one of those people who called for its replacement almost immediately, simply because you really couldn't move on those things. I would try over and over again, but it just never got going.
I love that Imagineering tried to revive the classic attraction, but it really is a shame that it couldn't work out better than it did.
Disney listened to its fans, and less than three years after it opened, Luigi's Flying Tires closed forever on February 17th, 2015. But Luigi's Casa Della Tires stayed standing as the queue for the replacement attraction, Luigi's Rollickin' Roadsters. While not as exciting as Radiator Springs Racers, the Roadsters did represent a milestone, as they brought the location-based trackless ride system to America. First used in Pooh's Hunny Hunt in Tokyo Disneyland, it took 16 years for the technology to finally make it to America.
And that brings our journey into the far and near past to a close, with the hope that versions of attractions can be revived. Next week, we'll have a throwback attraction with an old post getting an upgrade because I've got a busy week ahead of me, so here are your normal clues.
This show was only featured at one park.
This show is based on a Disney franchise.
This show was primarily a holdover for an attraction that still stands today.
I hope you guys enjoyed this post because I know I enjoyed learning about the Flying Saucers and revisiting Luigi's Flying Tires (even if I wasn't the biggest fan). Be sure to reach out with any comments you may have because I always love hearing them!
Thanks for reading and have a magical day!