Welcome to Disney Extinct Attractions. My name is Cole, and I'll be your tour guide on today's journey through the early days of Disney's Hyperion Theater.
This past week, it was announced that Disney California Adventure would have a special event this summer called the Summer of Heroes. The event will begin on May 27 to coincide with the grand opening of Guardians of the Galaxy - Mission: BREAKOUT! As you can see above, lately we've been seeing more and more of the structure for the attraction revealed, something I'm not sure how I feel about. For one, I think it's awesome that we are getting to see it piece by piece, but at the same time, it would be cool if it just kind of appeared overnight.
Anyway, I'm really excited for the Summer of Heroes because Marvel is finally making its true debut in America. The property is a perfect fit for the Disney Parks (even though they still can't use the word Marvel because of their agreement with Universal), and I'm excited to see where future attractions will fit into the different parks. For now, Marvel is beginning by basically taking over Hollywood Land in California Adventure, though I'm sure it will be getting its own land soon enough. (Summer of Heroes seems very similar to how Star Wars currently has control over Disneyland's Tomorrowland through the Season of the Force.)
But that's enough of Hollywood Land today, so let's jump back to the land's former life and the park's opening day.
Before we get to California Adventure, we have to take a quick stop at Disney's On The Record. The show prides itself on its mash-ups of classic Disney songs, but it doesn't have much of a story other than the songs. However, all of the performers are extremely talented, and it's gotten rave reviews based on the vocal performances alone.
Originally, Disney California Adventure was supposed to have a similarly-formatted show, where guests would watch a group of four singers performing hit Disney songs. (Though, Disney's On the Record came out after the proposed show, so maybe some ideas of the were implemented in On the Record.) But Michael Eisner and some other executives saw this version of the show before its official debut and asked the Entertainment division to create an entirely new show within a couple of months of the park's grand opening.
Opening along with the park on February 8th, 2001, the new version of the show, Steps in Time, took up residence in the grand Hyperion Theater. The hastily put together show included a new storyline of a Fairy Godmother helping two young children through their problems using Disney songs. But before I go much further into my thoughts, I want to give you a chance to watch this show because it was one of the weirdest shows I have ever seen, and I definitely recommend watching it for some context on the next part of this article.
Ok, so I don't even know where to start with this show because it left me speechless, but not in a flattering way. I wrote over a full page of notes on the show itself, which is easily a record for me for any attraction I've covered so far.
It was unlike anything I had ever seen before. I guess to start, Eisner's whole point of changing the attraction to make it have more of a story never really paid off. At the beginning, the Fairy Godmother just appeared, and it was never explicitly clear as to what she was trying to accomplish. She and the children then sang various Disney songs, as she tried to teach one of the boys about the powers of dreams, but it never really felt like the story progressed. They just went around singing songs loosely held together by minimal dialogue, and, eventually, the boys learned the power of dreams from it all. I'm still not sure how any of the songs translated to the story, and I was even paying attention!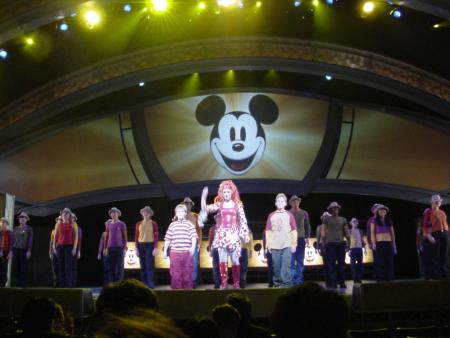 I also found it really interesting that the kids I mentioned above were actually child actors. For the most part, Disney generally strays away from casting minors in their park entertainment (as in I had never once seen it before this show), so I had to double check a few videos of the show on YouTube to ensure that my eyes didn't deceive me. Luckily, the kids actually were not the problem with the show, but it was still not a move I expected Disney to make.
But there were a few really weird moments in the show though, with the weirdest being the Fairy Godmother duetting with one of the kids, singing "A Whole New World." That song is one of Disney's most romantic songs, so it was really weird to see this child singing the song with his Fairy Godmother, who was easily 15 years older than him. It was too bizarrely erotic, and I actually had to pause the video afterward and take a break because of how uncomfortable it made me.
Overall, the film just had a distinct lack of a Disney feel, even though it included Disney songs throughout the entire show. There were no Disney characters in it, and something was just missing from the entire experience. (It didn't help that the lighting in it was terrible because they would shine the spotlight on the wrong person half the time, and you couldn't see half of the background either.) The story didn't really make sense, and there was no chance to ever connect with any of the characters in a meaningful way.
Plus, the Fairy Godmother looked very seductive in her outfit, further adding to the weirdly sensual nature of the show. I had never seen such undertones in a Disney show before, and it definitely left me feeling more on edge and uncomfortable than anything else.
As a whole, I simply do not have enough words to describe the experience that was Steps in Time. It was one of the weirdest and worst Disney attractions I have ever seen, yet I just could not look away. I cannot recommend watching the attraction enough because it is truly something that you'll have to see for yourself to believe.
To be fair, I do not blame Disney too much for the show because they had to rush through its creation. When you only have a couple of months to completely redesign an attraction, there isn't much you can do to create a quality product.
When the show finally debuted, most people agreed with me, with the show immediately panned by critics and guests alike. A replacement was needed as quickly as possible, especially since California Adventure as a whole was not succeeding at first. So with that, Steps in Time departed the park on October 14th, 2001, barely lasting eight months.
Across the country in Epcot, a show called The Power of BLAST! had taken control of the America Gardens Theatre from June 16th, 2001 until August 23rd, 2001. Based off of the hit show BLAST! that had taken Broadway by storm (even earning a Tony Award), this show brought a simplified version to Walt Disney World.
After its run in Epcot, Disney decided that the show would be the perfect replacement for Steps in Time, bringing a much-needed crowd pleaser to a park that really needed the extra attendance. And so with that, the Power of BLAST! officially opened in Disney California Adventure on November 22nd, 2001.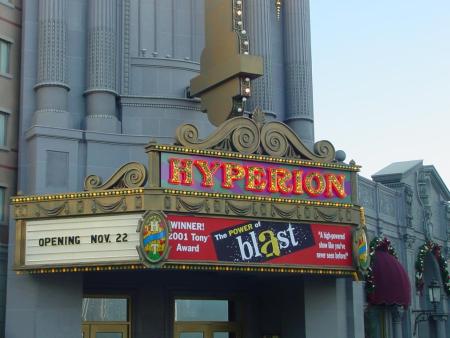 The show took off immediately, becoming one of the park's biggest hits. What made the show so unique was its new take on the theatrical event. It didn't have a story, instead being a showcase for musicians to show off their best skills. It was almost as if the orchestra had come to life and decided to also become the dancers in the show.
But before I tell you much more, I want to give you the chance to watch the show for yourself because it's a nice sigh of relief after the debacle that is Steps in Time.
I really enjoyed the Power of Blast because of how unique it was. I had never seen anything like it before, and I feel like it really fit the Disney ideal of breaking boundaries to created something new and innovative.
With all of the performers being musicians, it was almost as if the music came to life. Full of authentic fanfare, the show's energy was truly contagious, and it kept me engrossed the entire time. All of the musicians were just so talented and gifted that I really couldn't look away.
The Power of BLAST! really was the show that California Adventure needed when it first opened, so I'm glad it was eventually able to make it into the park. It really filled the void for a major attraction in Hollywoodland.
But needs change, and California Adventure began to get a bad rap for not being Disney enough (kind of like Epcot in a way). The show was also based on a non-Disney property and was really expensive to produce, so Disney was unable to benefit from it in the way it could from a show based off of a Disney film. So while The Power of BLAST! entertained guests daily, the Imagineers were working behind the scenes to create a new headliner based off of a Disney film.
So the Power of BLAST! blasted off into the world of extinct attractions on September 2nd, 2002 to be replaced by the beloved Disney's Aladdin - A Musical Spectacular. I may be a bit biased because I loved Aladdin, but I think this move was for the better because it did help California Adventure become a more Disney-centric park, increasing its popularity amongst guests of all ages. With that in mind, I'm extremely grateful for what The Power of BLAST! did for the park by erasing the memory of Steps in Time and really helping put the park on the right foot.
And that brings our tour of the early days of California Adventure and its Hyperion Theater to a close, but not without a peek at next week's post.
These attractions had to do with a holiday that will be celebrated next week.
Each of these attractions debuted in the park that started it all.
Both of these attractions had to do with New Orleans.
I hope you enjoyed this post and my mad ramblings about Steps in Time. Believe it or not, those were actually my abbreviated thoughts on the show, so if you want to hear more don't hesitate to ask! Also, some of the pictures did not have the best quality because there weren't many pictures of the shows online, so I just wanted to apologize for that.
So as always, thanks for reading and have a magical day!