Welcome to Disney Extinct Attractions. My name is Cole Geryak, and I'll be your guide on today's journey through some Mardi Gras experiences in the Disney parks.
This past Tuesday was Mardi Gras, also known as Fat Tuesday. The Christian holiday is a full day of festivities and binging on whatever one may be giving up for Lent. Over the years, Mardi Gras has gradually moved past being celebrated for one day only. Instead, celebrations last for over a month, especially in cities such as New Orleans. The city is known for its lavish parties from January on, culminating in a full parade on the day itself.
With that in mind, it's especially fitting that Disneyland and other parks would have Mardi Gras celebrations because their electric energy really fits in with Disney's upbeat nature.
Disneyland started off the Mardi Gras Celebration with the Party Gras Parade, which debuted on January 11th, 1990. Though a little early for Mardi Gras, the parade did arrive just in time for the beginning of the park's 35th-anniversary celebration. The parade was actually the big headliner for the "35 Years of Magic" celebration, an interesting choice I will admit.
But that's not to say the Party Gras Parade wasn't fun. In fact, it was anything but! So before I jump into more specifics, you can click below for a chance to view the parade yourself.
At first glance, one can't help but notice the giant balloon floats, better known as falloons. With each one standing roughly 45 feet tall, they were some of the tallest floats ever featured in a parade. (In fact, they even had to temporarily close the Skyway during the parade because of worries that the falloons would hit the gondolas.)
The falloons all focused on one of the Fab Five characters (Mickey, Minnie, Goofy, Donald and Pluto) plus Roger Rabbit. Roger may not seem like the most obvious choice for the parade, but his film had only come out a couple of years before, so his popularity was still pretty high. Plus, Disney had an attraction based on him coming out soon, so it was best to keep him alive in the public eye.
Disney characters weren't the only ones involved as this parade was Mardi Gras-themed after all. Along the way, there were 150 performers, many of whom were dressed in festive clothing reminiscent of the jester seen above. They would travel along the way and give out gold coins and beads to guests in attendance, so they could join the celebration in a more tangible way.
The parade also stopped at various points along the route to give the guests some opportunities to really interact with the performers. I love when parades do this because it gives the parade more of a showy feel and helps to really engage the guests to form connections with the parade.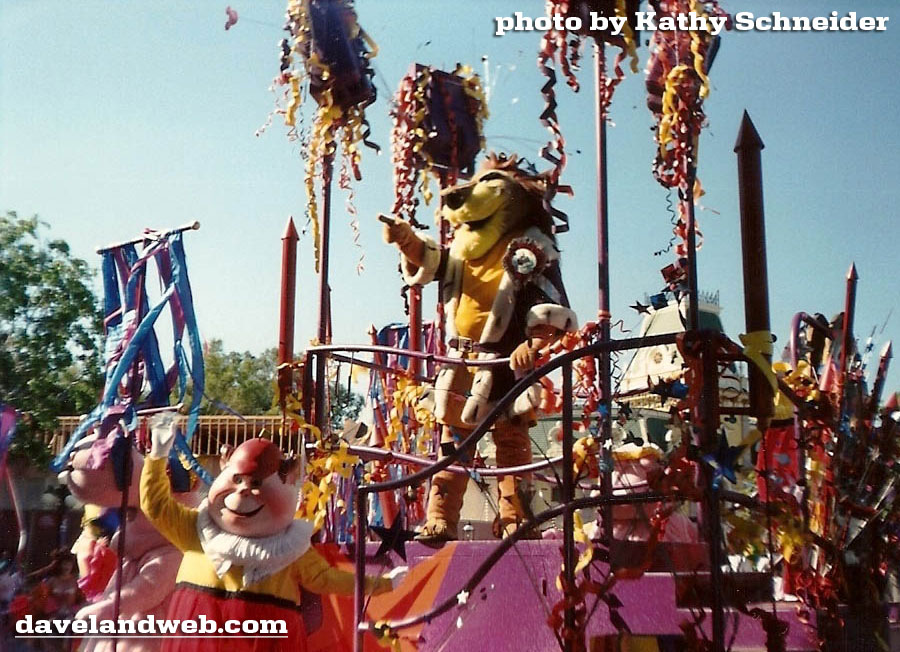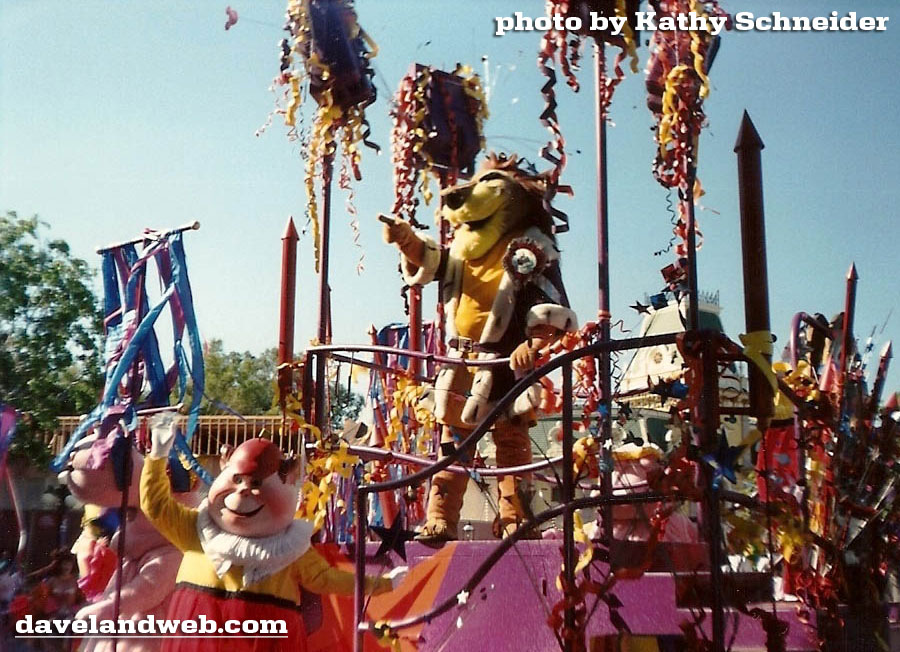 But what I really loved about this parade was how many rare characters they managed to get involved. I mean, how often do you see Prince John on a float? It's always so awesome when Disney pulls out the rarely-seen costumes and gives guests a true treat.
The only thing that really had me confused was why some of the characters weren't directly connected with their floats. Mickey and Minnie were right near their falloons, but other characters like Donald and Pluto took a little while to appear after their floats had gone by for some reason.
Other than that, the parade really was fantastic. It had so much energy and was jam-packed with performers, falloons and characters. It's a shame that it ended so soon after it debuted, having its final performance on November 18th, 1990. But the question is, did it really disappear?
If you were a Disneyland regular who visited the Magic Kingdom in Walt Disney World on September 22nd, 1991, you may have noticed that the parade looked very similar to something you had seen before. And no, your eyes weren't deceiving you because the majority of the falloons and costumes that you saw in the Magic Kingdom parade were directly brought over from California for the 20th Anniversary Surprise Celebration Parade. (It's a mouthful, I know.)
Arriving less than two week's before the park's anniversary, this parade also continued the awesome energy that Party Gras had. But there were a couple differences between the two, which you can try and spot in the video below before I reveal some of them.
The biggest difference that you would notice almost immediately is that Roger Rabbit is now the first falloon in the parade and he can talk! At Disneyland, a song played the entire time, so none of the characters could actually do any talking to the audience. But in Disney World, that problem was remedied as characters could at least partially interact with guests better.
The other primary difference was that all of the walkaround characters featured on the falloons now resided right near each of their respective falloons. Since that was something that really bothered me, I was really glad when it was fixed in Florida.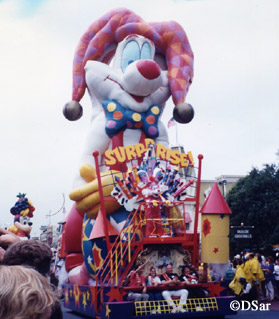 Other than that, the 20th Anniversary Parade was almost identical, still having that same frenetic energy all throughout. In fact, I think I liked it more in Disney World (mainly because of characters being with their falloons). But all good things come to an end, and the parade's run ended on June 4th, 1994. It did last a few years after the anniversary had ended, so that's an accomplishment on its own.
The story of this parade isn't quite over yet, though, as it also made its way across the sea to Tokyo Disneyland.
Ok, to be fair, it wasn't that the parade itself moved, but it was a duplicate that made its way over to Tokyo. It had to be because the parade debuted there on April 15th, 1991, so it would have had to have been in Walt Disney World and Tokyo Disneyland at the same time. Ironically enough, the parade was there to help celebrate the park's eighth anniversary, so this parade and its falloons were associated with anniversaries wherever they went.
I couldn't find much more information about Party Gras in Tokyo other than a few changes such as Mickey moving to the end and Roger Rabbit being eliminated from the party.
As always, I also found a video of the Tokyo version, so if you are interested be sure to check it out below.
It seemed as if the parade was also a pretty big success in Tokyo where it was around for a full two years until departing in April 1993. So that meant that all three iterations of the parade were gone by 1994, but not before leaving their mark on Disney's Mardi Gras history.
Luckily for us, it wasn't quite the end of Disney's Mardi Gras festivities, as it came back in a more limited way earlier this decade.
The Princess and the Frog marked Disney Animation's return to hand-drawn animation upon its arrival in 2009. Set in New Orleans and featuring some Mardi Gras-style scenes, this film was a perfect way to carry on Disney's Mardi Gras tradition. As a marketing strategy, Disneyland and the Magic Kingdom decided to create a special limited-engagement show to raise awareness about the Disney Classic.
Debuting in the Magic Kingdom on October 26th, 2009 and Disneyland on November 6th, 2009, Tiana's Showboat Jubilee opened nearly a month before the movie's official debut, marking one of those rare times when people were introduced to characters in an attraction before the movie.
The attraction started with performers walking through the streets of Frontierland in the Magic Kingdom and New Orleans Square in Disneyland. They'd then make their way onto each park's respective Riverboat for musical performances of a few of the songs from The Princess and the Frog.
The versions differed slightly, so now we'll take a closer look at Walt Disney World's version before jumping into Disneyland. You can follow along below if you want to see it before I talk about it.
I have to start off by saying how impressed I was with the production value of the show considering that it was made to only be in the parks for a couple of months. It featured dozens of performers and gave a great overview of the upcoming movie.
Plus, the show felt as if it were a full-fledged Disney attraction. There wasn't too much of a story, but it did do a fine job of introducing people to the characters and songs. One thing about the show in Walt Disney World was that all of the songs were prerecorded, and you could definitely tell they were lip syncing. But in Disneyland, they used live performers for the songs, which you can see below.
The live singers at Disneyland were great and did an awesome job of covering all of the songs from the film. Hearing live performers at Disneyland is always a pleasure, so I loved that they made the choice to include them in such a limited show. In Disneyland, it also had that same great production value as in Disney World, really making it a fun experience for all involved.
But as I said earlier, these shows were temporary, just intended to help market the film. So barely two months after opening, both ended their runs on January 3rd, 2010. I really love that Disney created these shows and would love to see more attractions like these pop up; attractions with a brief run to promote something, but also awesome production value.
In what is becoming a recurring theme in this post, that attraction wasn't the last Mardi Gras-themed one to grace the parks. (Though, this upcoming one will be.) In 2011 and 2012, Disneyland decided to host Family Fun Weekends, events themed around different holidays and characters such as the Lunar New Year and Character Fan Days.
One of these events was the Bayou Bash to celebrate Mardi Gras. As a part of those weekends, Disney put on Princess Tiana's Mardi Gras Celebration, a fun musical performance held along the Rivers of America. Though not as impressive as the Showboat Jubilee, the show did feature some awesome live performances and was great for being there for such a limited time.
Since then, we haven't seen a Mardi Gras attraction at the parks (but it has only been five years). It's such a fun celebration, and I would love to see some sort of representation of the holiday return to the parks in the next couple of years.
And that brings our look at these attractions to a close, but not without the promise of next week's throwback post.
This attraction was so extinct, it never got a chance to truly exist.
This attraction would have appeared in Frontierland.
This attraction would have been a boat ride.
Thank for reading, and I sincerely hope you enjoyed this post. I set a new record by talking about so many different attractions throughout the course of writing, and I'm happy to have shared it with you.
Thanks again for reading, and have a magical day!