Welcome to Disney Extinct Attractions. My name is Cole Geryak, and I'll be your tour guide on today's journey around the World Showcase.
This past week, Disneyland's PeopleMover won Mouse Madness, Laughing Place's yearly competition to crown the best of the best of a particular Disney topic, this year's subject being Disney Extinct Attractions. I love the PeopleMover, and it was the one that I thought would win it all (though, I would have chosen Adventure Thru Inner Space myself).
But now that we've looked at some recent developments, let's take a trip down the River of Time to World Showcase past.
Epcot's World Showcase, an area that pays tribute to eleven different countries and their traditions, was created with the idea that more pavilions could be added as the park expanded. (I have even heard that there are spaces for eight more country pavilions, though it doesn't seem like any will be added anytime soon.)
One of those pavilions focuses on the country of Mexico. As one of the United States' closest neighbors, Mexico was a logical choice to become a part of World Showcase. Upon opening, the pavilion had the distinction of being the only one to have an actual ride. Many of the pavilions had films or Audio-Animatronic shows, but on October 1st, 1982 (Epcot's opening day), Mexico was flying solo with its original ride entitled El Rio del Tiempo.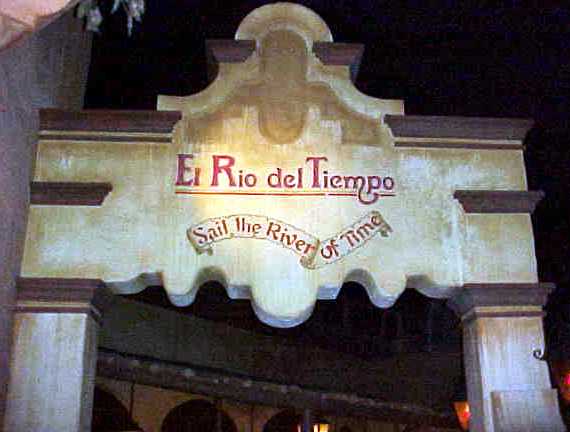 Surprisingly, I could not find much information on this Epcot original (which is why I also incorporated the better-known attraction you'll see later). It's rare that an attraction that stood for 25 years has so little written about it, but I think a lot of it has to do with the fact that its replacement is so similar, but I'm getting ahead of myself.
Also, the entire Mexico pavilion is contained within a temple, so everything inside of it is hidden from view of the rest of the park. Plus, the attraction itself was hidden along the side of the temple, making finding the attraction a true game of hide and seek. But even though it was difficult to find in the parks, it's pretty easy to find online, so check below for your chance to relive the past.
Overall, I really enjoyed the attraction because I thought it did a great job of combining aspects of two of the Disney parks' most famous boat rides, Pirates of the Caribbean and it's a small world. Like Pirates, the beginning of the attraction takes you through some ruins of a temple, and there is a slight sense of foreboding. But as the journey continues, the small world comparisons take over, as there were an abundance of dolls throughout the middle part of the attraction. I'm not really sure where they fit into the story, but I thought they were cute and actually did a good job representing the country.
The coolest part of the attraction was the 2D projection scenes that made up most of the action. Each screen basically portrayed a scene of the attraction to help carry the story along. I haven't really seen the technology used in any other Disney attractions, so I appreciated how it was used in El Rio del Tiempo.
Luckily, those projection screens made their way into the River of Time's successor, the Gran Fiesta Tour Starring The Three Caballeros.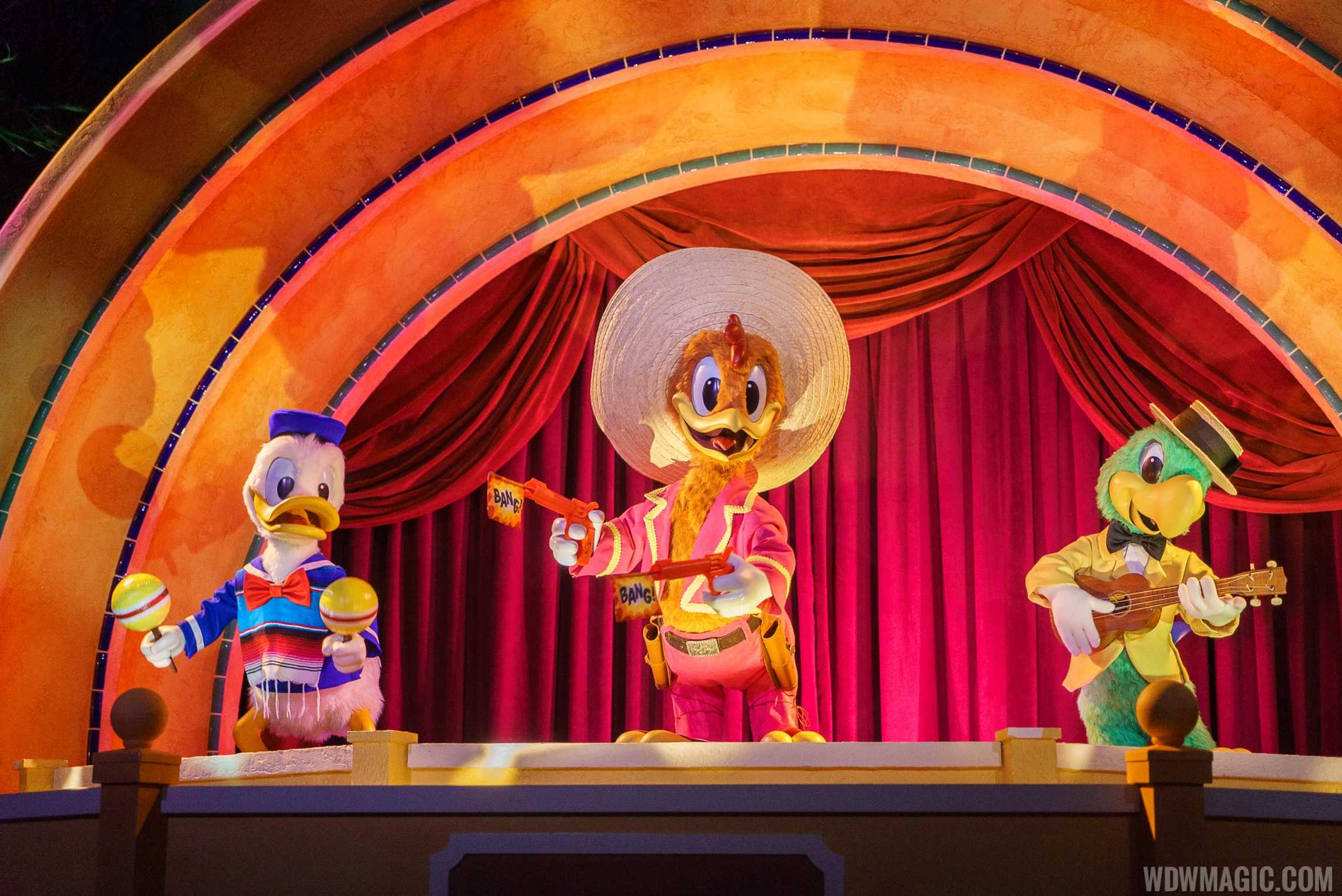 Eventually, Epcot decided to spice up the attraction to make it more "Disney," so El Rio del Tiempo closed forever on January 2nd, 2007. After merely three months, the Gran Fiesta Tour opened on April 6th, 2007, making today it's 10th anniversary!
One awesome thing about the Gran Fiesta Tour is that it shares a lot with El Rio del Tiempo. Most of the backdrops and scenery is the same, but the main difference is the story changes to focus on The Three Caballeros. However, the Gran Fiesta Tour feels more like a reboot than an entirely new attraction.
But now it's time to head back into the past to trace another attraction's journey through time.
When EPCOT opened in 1982, nine pavilions graced the World Showcase with their presence, with a Moroccan pavilion joining the party in 1984 to bring the total to 10.
After Morocco's opening, the executives at Disney waited another four years to bring another country to the World Showcase. Ideas for this new pavilion originally began with a Nordic pavilion that would have been composed of multiple countries located in the Scandinavian area. Investors from Norway overtook the bidding, however, so the pavilion transformed into an exclusively Norwegian affair.
The Norway pavilion officially opened on June 3rd, 1988, designed as a Norwegian village. It came complete with a few restaurants, a store, and a beautifully crafted Stave Church, but guests had to wait another month for the real star of the area to open.
Today, Epcot has thrilling attractions like Test Track and Mission: SPACE, but back in 1988, the theme park had nothing of the sort. The attractions were generally slower-paced, but they fit the idea of Epcot being an educational park, as these rides gave guests a chance to digest all the information presented. Norway's big attraction would also try and educate guests (but about Norway's history, not technology or the Earth like most of the other rides) in a much more thrilling manner.
Officially opening on July 5th, 1988, Maelstrom opened as EPCOT's first thrill ride, though by the end of its time, it no longer really qualified as one.
Understandably, Maelstrom was extremely crowded when it first opened, but luckily, the queue kept guests entertained, as guests had a special surprise once they got closer to boarding. Once there, they were treated to a giant mural (seen above) that gave an idea of what guests would encounter on their journey through Norway's history. Guests adventured through Norway, encountering trolls, polar bears, and even oil rigs. OK, maybe the oil rigs weren't super exciting, but I think they were such a funny addition to the ride.
It just cracks me up that you traveled away from trolls and through a magical cave only to encounter an oil rig.
Speaking of trolls, one part of the attraction that did increase the thrill-level was a backward drop to escape from some pesky trolls. I always loved that aspect of the ride as it made it truly unique because I don't know of any other Disney boat attraction that drop you backward.
The trolls were always my favorite part of Maelstrom as they added a sense of magic to an attraction that otherwise simply informed riders of the history of Norway. (Plus, they looked really cool.) Rather than simply being another version of El Rio del Tiempo, the trolls helped this attraction have more of a Disney feel to it. Interestingly enough, Disney Imagineers originally wanted the entire attraction to have more of that Disney touch, but the Norwegian investors insisted that the attraction focus on the history of Norway.
But I'll leave you to judge whether there should have been more Disney involved, or if you thought it had a perfect balance. You can find a video of the attraction right below and I definitely recommend checking it out, especially if you never got the chance to ride it.
Guests exiting Maelstrom had a special treat in store as they exited because they were treated to a special post show experience, not commonly seen in a Disney attraction. Many of the pavilions in EPCOT house short films about the countries they represent, so that guests can gain a greater appreciation for the country they are visiting. "The Spirit of Norway" did that as well, specifically for riders of Maelstrom. The film perfectly completed the adventure through Norway's history, helping guests who missed out on information due to the thrills of the ride still have a chance to learn about Norway.
If you never experienced the film, I found a pretty good version of it below. I have to admit, the movie is very odd, so if you like weird art houses films, you'll definitely enjoy "The Spirit of Norway."
Not all guests felt like they were missing out, though, so in 2008, guests were no longer required to wait to exit the attraction until the next showing of the film began, drastically reducing the film's attendance and ruining the environment for those wanting to watch the film.
Though this picture shows the construction of Maelstrom, I wanted to show it as I talked about the end of Maelstrom because I thought it looked really cool.
The end of Maelstrom started as early as 1992 when the aforementioned Norwegian investors sold their stake in the pavilion back to Disney. This sale gave Disney ownership of almost the entire pavilion, with the Norwegian government still contributing $200,000 a year to help with the funding. However, when the government ceased these payments in 2002, Disney gained complete control over the entire Norway pavilion.
When Frozen became the phenomenon that it was, the Norway pavilion was almost sure to get an icy makeover, considering that Frozen has its roots in Scandinavian culture. Sure enough, Maelstrom closed less than a year after Frozen was released to make way for Epcot's newest attraction, Frozen Ever After.
With a wait time that long on opening day, you can't say that Disney is regretting its decision to get rid of Maelstrom. But Epcot purists will always miss the days when trolls graced Norway that looked like this:
As opposed to this!
And with that, we'll disembark from the past, until next week's post, which you can figure out from these clues.
1. These attractions were based on the same 1950s Disney film.
2. Though based on the same film, they were completely different styles of attractions.
3. These attractions were in different lands in the two American Magic Kingdom-style parks they were in.
Thank you for reading, and I hope you enjoyed this week's post. It had that extra bonus attraction because I didn't realize that there was so little about El Rio del Tiempo, so I hope you enjoyed that, having a little surprise there.
And unlike that lady, have a magical day!