Welcome to Disney Extinct Attractions. My name is Cole, and today I'll be your guide through a fantastical world of lights, sound, and music.
Last night, the Main Street Electrical Parade went down Main Street USA for the final time, bringing to a close 45 years of amazing memories for guests across four different Disney parks around the world. This parade means a lot to so many guests, and its closure signifies an end of an era within the Disney parks.
But before I become too sentimental, let's look at the history of the attraction and its amazing world journey.
Our story begins in Walt Disney World with the Electrical Water Pageant that has run in the Seven Seas Lagoon since 1971. This nighttime show features floats on the water that light up in time to music. A success from its start, Disney wanted a similar type of experience for Disneyland, but without a giant lake on property, they decided to create a parade that emulated the experience, and thus, the Main Street Electrical Parade was born.
Opening in Disneyland on June 17th, 1972, the parade has such a long and storied history that I had to create a timeline in my notes to keep track. But Disneyland is where it all began with floats based on the Blue Fairy, Casey Jr. Circus Train, Cinderella, a Chinese dragon, and a circus calliope, of which only the Casey Jr. and Cinderella floats still exist today. All of these floats were made up of thousands of lights that came together to light up the streets of Disneyland.
However, the most important feature of the first parade still exists today; that is, the use of sensors to trigger float-specific music throughout the parade route. Today, this technique is used in every parade, and it's amazing to think that it all started with this little old parade.
After its success in Disneyland, the top brass decided to bring a version of the parade over to the Magic Kingdom where it officially opened on June 11th, 1977. Things were going swimmingly for the parade, even appearing during halftime of the 1978 Orange Bowl, so well even, that the parade decided to go for a swim itself, all the way over to Tokyo Disneyland, with another version of it opening there on March 9th, 1985.
So, if you are keeping track, there were three different versions of the parade floating around in the 1980s all across the world. It was quite a success story for something starting as a simple land version of a nighttime water show. In fact, its effects had quite eclipsed its predecessor even by this point, becoming arguably the most popular nighttime entertainment to grace the Disney Parks. (I would say the fireworks have had a bigger effect overall, but there are so many different firework shows, yet the one and only Electrical Parade has been seen around the world too much aplomb.)
After such a great decade in the 1980s, the 90s were bound to be a little less successful, but I doubt anyone could have predicted how drastic the decade was set to be.
The end began on September 14th, 1991 when the parade closed in the Magic Kingdom to make way for SpectroMagic, a nighttime parade that ran in the Magic Kingdom and was seen as a close cousin to the Electrical Parade. But not all was lost as the Magic Kingdom's version made its way across the Atlantic to Disneyland Paris where it opened on April 12th, 1992 as an opening day attraction.
The next casualty occurred on June 21st, 1995 at Tokyo Disneyland, where Fantillusion (another cousin) instead graced the park nightly.
But the worst loss came on November 25th, 1996 when Disneyland decided it had had enough of the parade, as well. Its closure paved the way for Light Tragic Magic to invade Disneyland, though that did not last long because Light Magic was one of the biggest failures in Disney history.
In fact, things looked even gloomier when many of the lights from the original parade were sold off to collectors. The above photo is one of those lights (and it just so happens to be sitting in my bedroom, being one of my most prized possessions).
By 1997, the parade had gone from performing in three parks nightly to one failing park without much hope that it would return to any of the parks it had called home.
There was still some hope left, though because the Disneyland version of the Electrical Parade (lights replaced) made its way to New York City on June 14th, 1997 to celebrate the release of the film Hercules. With a special Hercules float added to the beginning, the parade made its way down eight blocks of Broadway. After that performance, the floats sat tucked away, hoping for their chance to return to glory.
And return they did for Walt Disney World's Millennium Celebration. From May 21st, 1999 until April 1st, 2001, the original Disneyland floats roamed the streets of the Magic Kingdom as a part of this multi-year celebration. As the celebration ran its course, it became clear that SpectroMagic was going to return, and Disney began flirting with the idea of bringing the Electrical Parade back to Disneyland.
Simultaneously, Disneyland's sister park, Disney California Adventure, was failing upon its opening, so plans were changed to bring the classic parade back to the Disneyland Resort, though not quite in its original place. Opening on July 3rd, 2001, the parade began a run in California Adventure that rivaled the length of the original runs.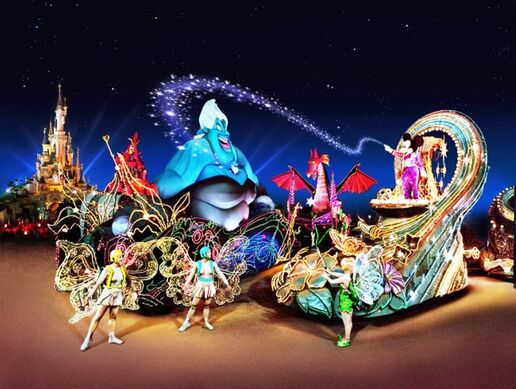 Meanwhile, the attraction began to lose steam in Disneyland Paris, being replaced by the same Fantillusion that had taken over Tokyo Disneyland (and literally the same because Tokyo Disneyland had replaced it and moved the floats to France). With just California Adventure surviving, all the pressure was on the Golden State to keep the parade alive. To do that, Disney added a Tinker Bell float in 2008, the first addition to the parade since a temporary Mickey's birthday float in 1988.
But alas, it was not enough to keep the parade in the Disneyland Resort as it closed on April 18th, 2010 to move back to the Magic Kingdom on June 5th, 2010. As part of a special engagement, limited time tour, the parade actually managed to stick around for over six years until October 9th, 2016.
On January 19th, 2017, nearly 21 years after it left Disneyland, the parade finally returned home. Over the years, the parade had been renamed Disney's Electrical Parade, but upon its return to Disneyland, it was finally rechristened the Main Street Electrical Parade, with the drum changing names to prove it.
To kick off this limited time farewell celebration, Disney held a special 70s-themed party where a select number of guests had the chance to see the parade a night before regular park guests and have special opportunities to take pictures with some of the floats.
I was lucky enough to attend this kickoff party (well, lucky is a relative term because I had to pay for it), and it was such a fantastic time. The parade had left Disneyland (literally) the day before I was born, so seeing it grace the streets of Main Street again was such an amazing feeling.
Throughout the night, I made great new friends, saw the parade, took pictures with the floats and just couldn't keep a smile off my face. You could feel everyone's excitement while waiting for the parade, and there were very few dry eyes as it began its journey. I will always cherish that night and all the lasting memories I made.
If you are reading this post, I think the odds that you have seen the Main Street Electrical Parade at one of the parks are pretty high, but nonetheless, above you can find a video of the performance from the premiere party. (I was actually sitting right near where this person filmed the parade, but I couldn't quite find myself in the video.)
Rather than go deep into the minutiae of the parade itself, I just wanted to take a quick glimpse at my three favorite floats to give a taster of why I love this parade so much.
Number three is the caterpillar from Alice in Wonderland. There is nothing particularly exciting about this float, but Alice in Wonderland is my favorite Disney film and the Caterpillar is my favorite Disney character, so any chance that I get to see them represented in the parks always gives me joy.
Number two on the list has to be Elliott. The fact that this gigantic dragon could maneuver the streets of Disneyland never ceased to amaze me. With Pete on his neck and the ability to disappear, Elliott felt right at home in this parade, and he helped bring an awareness of the underrated film to audiences every night.
But the number one float on my list has to be the bacon float. Ok, maybe it's actually an America float, but it looks a lot like bacon, so many fans have lovingly called it that over the years. This 118-foot long float seemed to defy physics as it made its way through the parks. The America float seemed to go on forever, making it a fitting end to such an amazing parade that you never wanted to end.
I got the chance to see the Main Street Electrical Parade at three different parks, and each place left me with such lasting memories. When I saw it as a child in California Adventure, I was generally with my family on a day trip, but when it moved to Florida, seeing it became a vacation treat. And when I moved back to California, I now began seeing it with friends. Seeing it through all of these lenses gave the parade a very special place in my heart because it got to experience it in relation to other things close to my heart.
Today, we can now see Dreamlights in Tokyo Disneyland or Paint the Night in Hong Kong Disneyland and soon Disney California Adventure. These parades pay homage to the classic nighttime parade that started it all, but none can reach the special place in my heart that the Main Street Electrical Parade holds. The parade has been there for me through thick and thin, and I am so sad to see it go. Though, the parade does seem to like to reappear (just like Elliott), so I'm not giving up on its reappearance someday in the near future!
But for now, it is time to say so long to this classic attraction and look at what's coming in this blog's near future.
This attraction was replaced by the same thing in the two parks where it appeared.
This attraction was an opening day attraction in both parks.
This attraction featured a very famous mouse.
So that brings today's proceedings to a close. Next week, we'll be moving back to the Thursdays that Disney Extinct Attractions is usually posted, so I hope to see you all then.
Thanks for reading, and have a magical day!