Welcome to Disney Extinct Attractions. My name is Cole, and I'll be your guide on today's journey into the past of one of the most beloved lands in Disney California Adventure.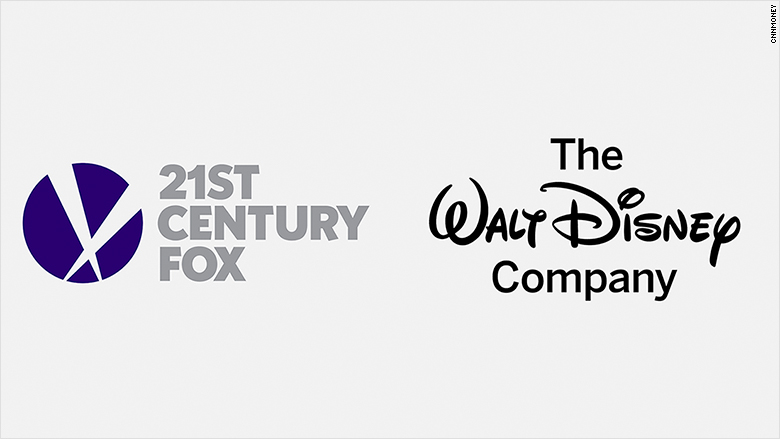 This week, Disney made waves with the announcement that they were in talks to buy the film studio part of 21st Century Fox. This deal would greatly increase Disney's film library, an especially important fact given that Disney's streaming service will soon be coming to fruition. With this purchase, Disney would also gain the rights to X-Men and the Fantastic Four, helping Marvel Studios become even more of a powerhouse. Fox also owns the right to Avatar and its sequels, meaning that Disney could add another billion-dollar film franchise to its arsenal.
Unfortunately, it seems that the deal has fallen through, but I would not be surprised to see Disney make a deal for the film rights to another major film studio before the Disney streaming service is officially unveiled.
Disney has made so many key acquisitions over the years, and this Fox deal would be one that rivals the level of Lucasfilm, Marvel and Pixar. Now thinking of Pixar, the other bit of Disney news from this week is that Paradise Pier will be replaced by Pixar Pier, but before we get into that, let's jump back to February 8th, 2001 and the opening of Disney's California Adventure.
It has been 46 years since Disneyland first opened its gates, but not until now has there been another park in the Resort. As you stand in the Disneyland Esplanade, you can't believe how lucky you were to have a ticket for opening day.
Hardly believing your luck, you head past the giant California letters and through the turnstiles. The Golden Gate Bridge welcomes you to the Sunshine Plaza, but your eyes are all on the prize that is Paradise Pier. In every commercial you've seen, this boardwalk-themed area has drawn you in, and you had to start your journey there.
At long last, you finally make your way to the entrance walkway, and you stop to take a moment to yourself because you can't believe you are finally here. You take a deep breath and walk across the bridge into this land of "fun in the sun for everyone."
As you walk through the entrance, your eyes are immediately drawn to the eighth largest roller coaster in the world, California Screamin'. Your stomach fills with butterflies as you take in everything about the coaster, but you know that there is no backing out now. You make your way through the relatively unadorned queue before sitting down for one of the most thrilling rides of your life.
With your hair completely frazzled after the experience, you hop out of the train immediately wanting to ride again, but knowing that there are so many more experiences to explore, you continue your way around the pier.
Mere feet away from the exit to Screamin', you stumble across the next attraction on your list, King Triton's Carousel of the Sea. As a lifelong Little Mermaid fan, you could not wait to finally ride an attraction based around the film. (Sure, it was no dark ride, but it still paid homage to the film.) Your ride around on a seahorse keeps you content and provides a nice break after the thrills of Screamin'.
After you got your chance to calm down, you realize that it is time to up the thrill factor a little bit as you make your way over to the Sun Wheel. Because you were craving that upward thrill, you decide to take a gander at the swinging gondolas. Your excitement mounting as you stand in line, your gondola finally rolls up, so you hop inside ready for an awesome time.
After defying death on the wild, swinging gondolas, you want some more thrilling experiences, so you immediately dash over to the Maliboomer.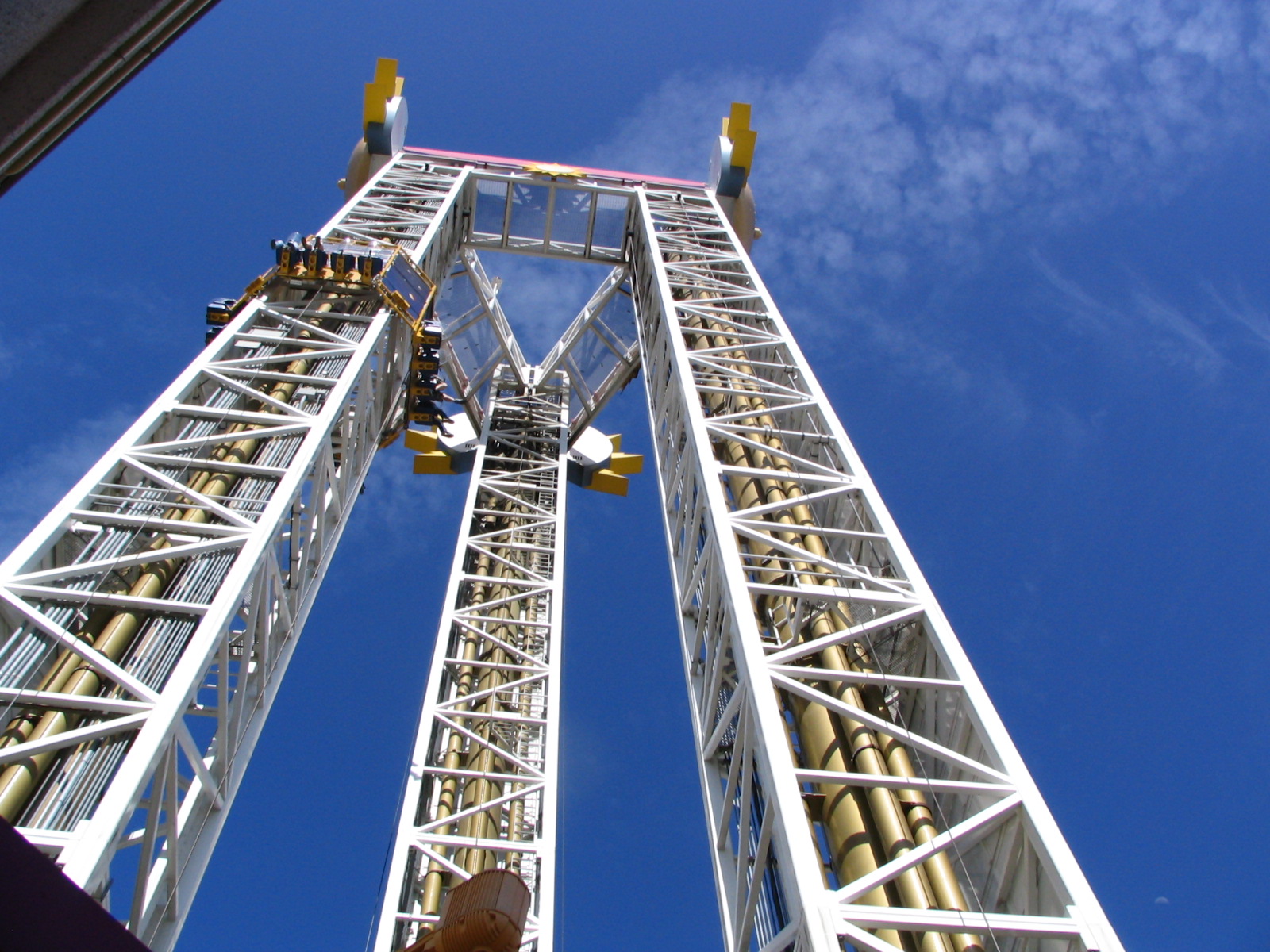 As you stared up at the giant structure, you begin to second guess your choice to strap yourself in and launch yourself hundreds of feet in the air. But you know that you'll never be able to live with yourself if you don't ride, so you sit down and let the fun begin.
After that attraction brought you to new heights, you look around and immediately see a giant orange that calls to you.
You are unsure exactly what is inside of the orange until you get closer and see a giant group of swings going around and around. Luckily, your stomach is ready for the challenge, so you take your seat and get ready for a fun ride.
As soon as the ride finished, you begin to second guess your rash decision to spin around and around, so you look around for a quick place to help your nausea go away.
Luckily, right next door, you stumble across the S.S. Rustworthy. You walk around and take in all the little details of this slightly dilapidated ship. Quickly, your stomach evens out, so you decide to explore the other attractions that Paradise Pier has to offer.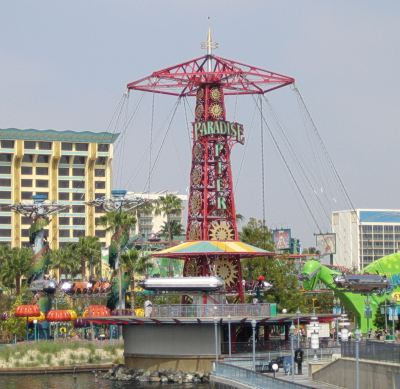 As you continue your stroll, you decide to leave the Jumpin' Jellyfish and Golden Zephyr for another day, instead opting to make your way over to an especially frightening time, Mulholland Madness.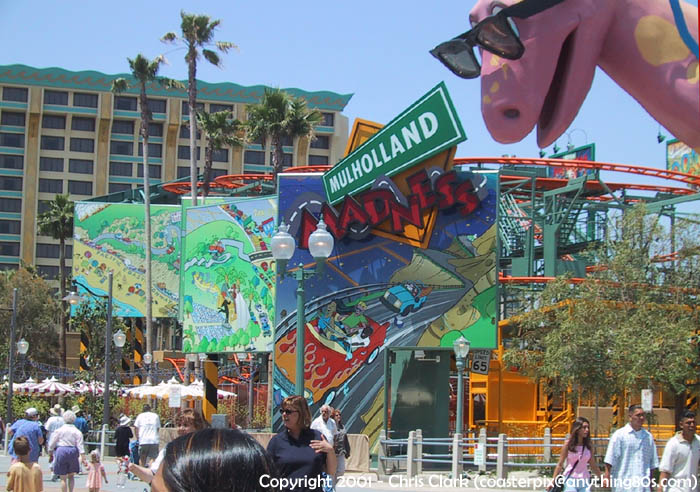 As you wait in the queue, you keep hearing people scream in delight as they go on this whirlwind adventure that is emblematic of a real ride down Mulholland Drive. Your excitement (and fear) building, you finally make your way to the front of the queue to sit down for Mr. Toad's Wild Ride minus some amphibians.
After that harrowing journey and all the other thrilling adventures, it is time for a rest, so you head over to Golden Dreams for a little time with Whoopi.
This show told the history of California, bringing your adventure from the day full circle. To be a part of the opening day festivities was be an experience that you would never forget, even to this day.
The version of Paradise Pier that I just described was how Paradise Pier appeared for nearly eight years until Disney began their billion dollar renovation of California Adventure. Paradise Pier was a huge part of these renovations, with many of its attractions getting facelifts (with the exception of California Screamin', King Arthur Carousel, Jumpin' Jellyfish and Golden Zephyr).
The Sun Wheel got a literal facelift, with the sun being removed to make way for Mickey's face. Rechristened Mickey's Fun Wheel, the attraction had few changes other than a repainting of the gondolas and the face change.
The Orange Stinger had one of the most dramatic changes, becoming the Silly Symphony Swings. I think this was the best change that Disney made in the renovation because it opened up the area and gave guests the chance to actually see their surroundings. It was very difficult to look outside the orange peel as you were on the swing, so opening the attraction up gave guests more of a purpose to ride.
Continuing around the area, the S. S. Rustworthy was taken away and replaced with a small garden area. Sure, the boat wasn't spectacular, but it left me with a lot of fond memories.
Keeping with the theme of Disneyfying the pier (that is, giving many of these attractions a Disney theme), Mulholland Madness transformed into Goofy's Sky School. It didn't experience many changes other than a paint job and some changes to the billboards, so for those out there who love the inescapable threat of death, there was no need to fear. (Ok, wild mouse rides just always scare me and make me feel like my car is going to derail.)
But the attraction that had the most drastic change was Golden Dreams. The Whoopi Goldberg short was one of the least popular attractions in the park, so it made way for The Little Mermaid: Ariel's Undersea Adventure to much acclaim.
However, the only attraction to be completely removed during this time was the Maliboomer. One of my personal favorites, the attraction didn't really have a place in the restructured Paradise Pier, but I wish something more had been done with the area after the Maliboomer was removed. Sure, the footprint for the attraction wasn't very large, but simply making it a garden didn't seem to do it justice. But that is finally about to change.
As recently announced, this summer, part of Paradise Pier will be getting a permanent overhaul to become Pixar Pier. There has been a lot of backlash to this announcement, but personally, I am super excited. California Adventure is becoming more and more of a Pixar park, but I like that because it helps with the park's sense of identity (in that it doesn't really have one right now).
As you can see from the picture above, Pixar Pier will extend from the main entrance of Paradise Pier to the end of California Screamin' with the rest of Paradise Pier being renamed Paradise Park and remaining intact and the same.
Pixar Pier will open with a few new attractions such as an Inside Out-themed spinning attraction where Maliboomer was and a retheming of King Arthur's Carousel to be Toy Story centric.
But the biggest change has to be the retheming of California Screamin' to the Incredicoaster. I am a huge fan of this switch because I have always thought that the biggest issue with Screamin' is its lack of theming. For a park where theming and story are everything, Screamin' was the one attraction that was still devoid of either, even after the park's billion dollar expansion to fix those problems. So giving the attraction an awesome theme like the Incredibles will boost it into a top of the line attraction in my book. (And here's hoping that Neil Patrick Harris will still be involved in some way.)
So as you can see, Paradise Pier has been through a lot over the years and will only continue to grow as time goes on. I am lucky enough to have experienced every incarnation of each of the attractions mentioned today, and I am so excited to see where the land goes in the future. Speaking of the future, let's take a look at what is coming next week on this blog.
These attractions were all parades.
Each of these parades appeared in a different park.
These parades combined movie stars, anniversaries and Goofy himself.
I hope that you guys enjoyed this post because I really enjoyed getting to look at Paradise Pier in a different way. If you enjoyed this slightly different way of approaching extinct attractions, let me know because I'm definitely looking at it as an approach in the future, too.
Thanks for reading and have a magical day!