Welcome to Disney Extinct Attractions. My name is Cole, and today I'll be your Head Elf as we spread Christmas cheer for all to hear.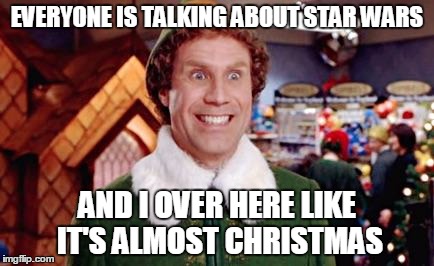 As this photo so perfectly puts it, The Last Jedi was the talk of this weekend, what with the second highest opening weekend of all time domestically. But let's not forget that Christmas is only six days away! As I'm sure is true for many people, Christmas is one of my favorite holidays because I get the chance to spend time with family and friends and get a much-needed break from school.
And how could I forget Disneyland during Holiday Time? I have my next Disneyland day planned out, getting there right before the decorations are taken down. That day, I plan on doing nothing but taking in every holiday attraction that the park has to offer, as well as experiencing the Festival of Holidays currently taking place in California Adventure. I've had some withdrawal symptoms over the past few months, so this trip is much needed.
Currently, Disneyland does overlays for several of its attractions (it's a small world and Haunted Mansion), as well as a Christmas parade and Christmas fireworks, plus all the decorations. But early in Disneyland's history, there were also shows in the Fantasyland Theater to celebrate the holiday season, some of which we'll talk about today.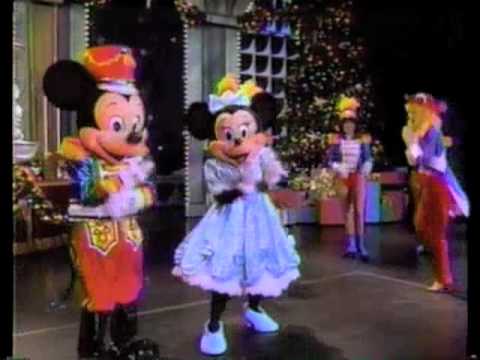 Mickey's Nutcracker made its home in the Videopolis Theater in 1991 and 1992. At the time, there were no overlays in the park, so this show added a little boost that helped the park's holiday spirit feel a little more all-encompassing.
Unfortunately, there is very little information about the creation of this show or any of the other shows that I'll discuss today, as the holidays shows are not frequently talked about in the park's history. They tend not to be as flashy as the mainstream shows, but I'm here to tell you that there is still a lot to love about them.
Below, you'll find the video of Mickey's Nutcracker in all of its glory.
The most interesting part of this attraction was that it actually got a full TV special in 1991 where a recorded version of the show was broadcast live (which is what the clips above are from). Very few Disney shows, especially recently, have gotten a full showing on television, so the fact that this show did showcases its uniqueness.
Now, in terms of the actual content of Mickey's Nutcracker, the show takes most of its cues from the ballet, The Nutcracker, as one might expect. I've never seen the ballet, but it's especially fitting that I'm discussing this show today as the teaser trailer to the 2018 Disney film The Nutcracker and the Four Realms was released just a few days ago.
The show was definitely on the cornier side, but I really enjoyed that aspect of it. Having no real background with the story, I really liked the idea of a Rat King whose only poison was sweets. It was super simple, but at the same time, a very Disney move. The Rat King's song was also a borderline rock opera, which didn't really fit at all, but somehow fit perfectly at the same time. The show also came out around when Roger Rabbit did, so he made an appearance and even got his own song, so give it an extra point for that.
Other than those two parts, I thought the show was pretty normal, but still provided a lot of Christmas spirit. I know that I would have tried to catch it at least once a holiday season while it was there.
Mickey's Nutcracker only lasted two Christmas seasons before calling it quits. After the show, the Videopolis Theater never saw another Christmas show, instead keeping shows based off of Pocahontas, Snow White and more in the theater year round.
This idea is purely conjecture, but I believe that a large part of the lack of Christmas shows was the emergence of holiday overlays like it's a small world holiday and Haunted Mansion Holiday. These attractions continually have some of the longest lines during the Christmas season and help with crowd control in a way that no show would be able to do.
Across the Atlantic, at Disneyland Paris, it's a small world also receives an overlay every Christmas season, becoming it's a small world Celebration. Very similar in scope and appearance to the Disneyland version, this attraction conveniently guided us over to the home of the next attraction on today's list, Mickey's Winter Wonderland.
A holiday classic in the Chaparral Theater from 1997 until 2012, this show was the true harbinger of the Christmas season at Disneyland Paris. Few shows manage a run of 16 seasons in the Disney Parks, so its longevity shows how special of a show Mickey's Winter Wonderland was to so many people.
Every show that I've seen from Disneyland Paris has been great, and Mickey's Winter Wonderland is no exception. All of the performers have so much energy and the combination of French and English makes for an experience unlike any other.
Mickey's Winter Wonderland featured all of the Fab Five plus Chip and Dale, so you knew you were in for a treat. (In fact, every show I'll discuss today had most of those characters in it because Christmas really is the time for family.)
Now all those characters are cool, but what made this show so special to me was the appearance of none other than the Country Bears themselves. In case you didn't know this about me, I absolutely love the Country Bear Jamboree (and am still a little mad that it's not in Disneyland anymore). Every year they come out for fun during the holiday season in California Adventure, but otherwise they are generally relegated to the storage closets, so seeing them appear in this show cemented it as Disney's greatest Christmas show ever in my mind.
Overall, I really enjoyed Mickey's Winter Wonderland, and I had a blast watching it (to which I give a ton of credit to the Country Bears). I can see why it stayed around in Disneyland Paris for such an extended period of time because it was truly emblematic of the Christmas spirit.
Now jumping back across the pond to Disneyland, I know that I said the Videopolis Theater never hosted another Christmas show, but what I failed to mention is that the Videopolis Theater ultimately changed its name to the Fantasyland Theater, a theater that did happen to host a Christmas show during the holiday seasons in 2001 and 2002.
After that, the show faded away, but not without one final encore performance on December 6th, 2009 to a crowd full of D23 members. I had never really heard of an attraction doing something like this performance before, outside of Captain EO, so when I watched the video below, I came in with relatively high expectations.
Now the show didn't exceed my expectations by any means, but it did do exactly what its job was: put me in the Christmas spirit. The story follows Chip, Dale, Pluto, Goofy, Mickey, and a few human friends all coming to Minnie's house for a Christmas party. Crazily enough, each of them came dressed up as Santa, having missed the memo that this year was Mickey's year to play the big man.
Luckily, Minnie's human friends (who I am a still a little confused as to how they got to invited to this party) were around to help by singing a different Christmas song each time someone new came over. In my opinion, this show had the best song choices of any of the shows that we saw today, merely because each one of them really got me in the holiday spirit.
At the end, Mickey manages to come around and save the day by informing us that everyone can be Santa because the more the merrier. I really like this message as it fosters a sense of inclusion that is really what Christmas is all about. Plus, the final song even had both of the human performers sing while also performing the song in sign language, promoting this message even further.
So as mentioned earlier, even though this show is simple, its message and Christmas spirit helped it stick out in my mind. It also helps that I'm pretty sure that I saw the show when I was about 5 years old, and a lot of those memories came flooding back watching the video.
And that brings our Christmas journey to a close, but between now and the holiday, here are some clues to digest before next week's post.
This attraction is currently still a mainstay in three parks around the world.
The focus of next week's post will be on former versions of this attraction.
One of the versions caught fire for its new version.
Thank you for reading, and I hope this holiday season treats you and your family well. I really enjoyed having the chance to get into the holiday season, especially with school just getting out and not really having a chance to focus on it before now.
Thanks again for reading and Happy Holidays!