Welcome to Disney Extinct Attractions. My name is Cole, and I'll be your guide on today's trip into Tarzan's Animal Kingdom.
Yesterday, we celebrated Valentine's Day, a day that tends to bring people to tears, either through love or sadness. Personally, I don't take a lot of stock in the holiday, but I do like everything that the Disney Parks do to celebrate it. Granted, it's not a ton of stuff, but they put up some simple decorations around the parks that are really nice to see.
Now everyone knows that Valentine's Day is a time of love, and Disney is well-known for its love stories, both familial and romantic. Everyone knows about the Disney princesses, but today I want to highlight a story that has a lot of the elements of a Disney princess film, but instead takes place in a jungle.
Released on June 18th, 1999, Tarzan went on to become the fifth highest grossing film of 1999 worldwide. Disney Animated Classics tend to do particularly well within the yearly box office results, and Disney was still at the top of its game in 1999, with the Disney Renaissance slowly coming to a close at this time.
Around this same time, Disney's Animal Kingdom was still trying to find its place within the Disney Park pantheon. The park was trying to find its place as not only just a zoo, but also a classic Disney park. There was not a huge Disney presence within the park, so with this immensely popular movie taking place in a jungle, Tarzan was an obvious choice to join the Animal Kingdom.
Now I'm not sure the exact chronology of the events because I couldn't find a lot of information online, but one of the ideas to involve Tarzan in the parks was to create a roller coaster where guests could have a chance to swing through the jungle like Tarzan himself. Designed as an inverted coaster to help guests experience the feeling of moving from vine to vine, along the way, guests would have learned information about the plants and animals from the African continent.
Unfortunately, there isn't much more information about this proposed idea because it never ended up happening. Funny enough, I actually had an idea for an attraction almost identical to this when I was younger (but I'm not sure if that was a good or a bad sign). Either way, I think it would have been a really cool addition to the Animal Kingdom, but I'm pretty happy with how the park ended up turning out. But luckily for us, we did end up getting a Tarzan attraction at the Animal Kingdom, though it turned out a little bit different.
Now, the first thing that you'll notice about Tarzan Rocks!, which opened in the Animal Kingdom less than a month after the movie on July 7th, 1999, was how awesome the stage was. Full of the vines that populate the film, I was immediately struck by the design of the area, so I knew that when showtime came, I would be enthralled. And now you can also be enthralled by checking out below. (Also, pay attention around minute 23 for a particularly funny moment.)

There isn't much more history to discuss regarding Tarzan Rocks!, so I'll spend the rest of our time today discussing this attraction that was truly unlike anything else I've seen in a Disney Park. Rather than retell the story of Tarzan, the show decided to take its name literally and function as more of a rock concert than anything else.
The curtain on the stage rolled up to reveal a rock concert stage where our fearless lead singers and their band would sing nearly all of the songs from the movie. Considering Phil Collins' soundtrack has become one of the most timeless Disney soundtracks out there, it was especially fitting that the Imagineers decided to make this show revolve around a concert as opposed to a narrative form. It fit the attraction really well and helped it stand out.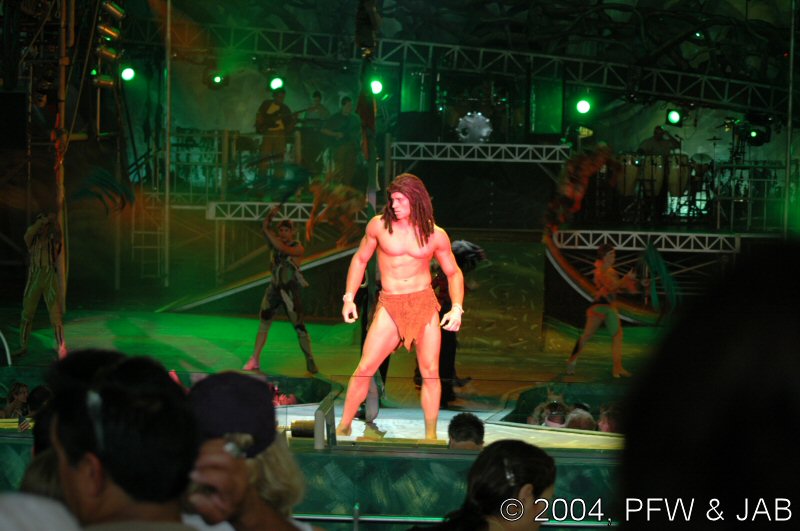 But naturally, Tarzan still makes an appearance because this is Tarzan Rocks! after all. He and Jane get involved in some really cool aerial action which is exactly what you would expect from an ape man.
Of course, you can't have a Tarzan show without some Turk, so everyone's favorite gorilla made an appearance to help the audience trash the camp. My favorite part of Turk's appearance was the fact that he came on stage fully miked. You almost never see walkaround characters with a microphone on, so this little aspect really gave me a little chuckle.
But one of the coolest parts of the show was the massive amount of rollerbladers that had a part in the show. There was a full five minute part where we just got to watch people doing some awesome rollerblading tricks, and it was super thrilling. I love acrobatics and stuff like that, so this whole show was just really exciting.
Unfortunately, I never got the chance to see Tarzan Rocks! in the parks because it ultimately closed on January 21st, 2006 to make way for Finding Nemo The Musical. Personally, I don't love this show, so I would much rather have Tarzan Rocks!, but oh well, that's what YouTube is for. So that brings our journey to a close, but here's a quick glance at what we'll be discussing next week.
Each of these proposed attractions would have been super colorful.
A model for one of these attractions can be found in Disney California Adventure.
One of these attractions would have taken place in Oz.
I hope you enjoyed these looks at some attractions revolving around everyone's favorite ape man. I wish there was more history that I could share about them, but alas, they are clouded in mystery.
Thanks for reading and have a magical day!