Welcome to Disney Extinct Attractions. My name is Cole Geryak, and I'll be your tour guide on a musical journey through Frontierland.

First of all, Happy New Year! It's hard to believe I only started writing this blog in March of 2016, and what a journey it has been, so thanks for coming along for the ride!
Last Monday, the inevitable finally occurred, and Disney California Adventure's Tower of Terror closed forever to become Guardians of the Galaxy - Mission: BREAKOUT! There was a lot of fan backlash to this decision, but Disneyland is a place of change, so I'm excited to see the implications of this change on the park as a whole in the future.
In other news, Disney decided to open up the pathway between Frontierland and Fantasyland on higher capacity days to help with crowd control. I apologize for the low quality of the photograph, but I had to take a screenshot of a video, which you can find by clicking on the link below the picture. It gives an awesome view of the construction that is going on in Star Wars Land and the Rivers of America, and we are lucky that this gentleman was able to keep his camera out to give us this look. (Sadly, the path was closed when I visited at the beginning of the day this past Tuesday, but maybe it'll be open when I go later this month, so I could take some better pictures.)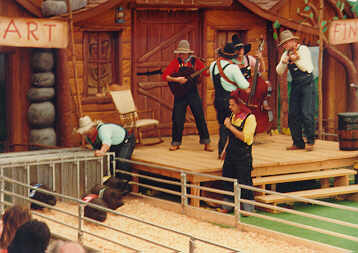 Now (in what is quickly becoming a recurring theme on this blog), we start our story of the week in Big Thunder Ranch with another attraction that was in the area before Star Wars Land, the Disneyland State Fair. In 1986 and 1987, Disneyland decided to hold a State Fair promotion, where each state was represented with special stickers and booths throughout the park. One of the highlights of the State Fair was an event called Pigmania where pigs would race in Big Thunder Ranch. (The photo above illustrates the event.) All of these pigs would be spurred on by audience participation and some fabulous musicians.
Disney liked some of these musicians so much that the company asked them to stay around and help with the opening of Splash Mountain in late 1988. Luckily for the band, the attraction was delayed by about seven months, so they were really able to establish a presence in Critter Country. The group became a much-needed dose of live atmosphere in an infrequently populated area of the park, so Disney decided to keep them around for a bit longer still.
Eventually, the group struck gold and moved in front of the Golden Horseshoe Saloon, becoming a little band known as Billy Hill and the Hillbillies.
The band continued to play outside of the Golden Horseshoe for another two years until the Golden Horseshoe Jamboree Show came to an end, opening the door (quite literally) for Billy Hill and the Hillbillies to become the resident band.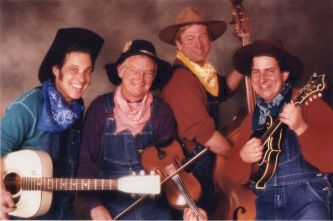 Pictured from left to right are Kirk Wall, Dennis Fetchet, John Marshall and Evan Marshall, the original starring cast of the scripted show at the Golden Horseshoe. In those days, the Billys performed five times a day, five times a week, making for a pretty busy schedule.
Shows continued as normal until 1999, when Disney decided to bring Woody's Roundup to the Golden Horseshoe to promote Toy Story 2. During that time, Billy Hill and the Hillbillies briefly moved to Big Thunder Ranch. The Roundup wasn't the most popular show, though, and the Billys were back at the Horseshoe only a few months later.
In 2003, Disney couldn't get enough of the Billys, changing their schedule to seven days a week with approximately five shows a day. To accommodate for the additional shows, teams were created for which performers would appear on each day. There were now a lot more Billys to go around, but you would always see at least one of each of the original Billys at whichever show you were at (unless they all had subs that day).
I don't want to dive too in depth on the teams because it's a lot of names and charts, but I do want to give you some insight into the Blue Team because they'll become more important later.
From left to right, you can see Dennis Fetchet, Anders Swanson, Kirk Wall and Rick Storey, all also known as Billy. You may recognize Dennis and Kirk from one of the above pictures because they were two of the original members of the band.
Speaking of Dennis, he was the primary fiddlist of the group, famous for the Orange Blossom Special and "The Train Thang." An accomplished musician (who performed with artists such as "Weird Al" and ZZ Top), Dennis has been a part of the Disney family since 1986. This may sound crazy, but I don't know if I ever saw a show of Billy Hill where Dennis wasn't there (and I saw this show EVERY time I went), so I must have always gone on days he was working.
Movings along to Anders, he joined the Hillbillies in 2003. Always a fun presence to have on stage, Anders is actually still around Disneyland quite often, performing with the Five & Dime Band at Disney California Adventure, where I did actually see him one time.
Rick also joined the Billys in 2003, upon the show's expansion to seven days a week. A whistling king, he added his talents to each show, whistling away during some of the songs where he also got the chance to showcase his great singing voice.
And finally we come to Kirk Wall, entertainer extraordinaire. As the show's lead singer and comedian, Kirk helped make Billy Hill and the Hillbillies the amazing show that it was. One interesting quote that I read was that Kirk would target his jokes towards adults because he knew that if the adults started laughing, the kids would crack up by simply seeing their parents laugh. Also an accomplished Elvis impersonator, Kirk also said that Disney did not keep them from doing other projects such as the "Red, White & Bluegrass" concert series in 2001.
The group had the opportunity to travel around the country and perform with many different philharmonics. It also gave them a chance to show off their talent to a broader audience than just Disneyland (though that's one of the biggest audiences you can get).
Speaking of that wider audience, the band even produced an album of some of their best songs (which my family just might own). It's a live album and contains a lot of great humor and some awesome songs including my favorite, "The Devil Went Down to Georgia."
Now that you have an idea of who Billy Hill and the Hillbillies were, here is your chance to relive history and watch one of their past performances. I sorted through a few of the shows that I found online and ultimately settled on this one because I think it represented the group's talents the best. Plus, it featured my favorite segment of theirs, Puddle Prance.
Now that you've had to chance to see the band, here are my thoughts on what is still my favorite show in the Disney parks.
Billy Hill and the Hillbillies was a beautiful combination of comedy, music and just pure fun. I would go to see them every time I was there, and watching them with my family led to some of my greatest Disneyland memories. I always loved it when they performed the Puddle Prance or an Elvis song or even just a joke like "My daddy's name was Ferdinand, my momma's name was Liza. They didn't know what to call me, so they called me Fertilizer."
The Billys did such an amazing job of keeping their show fresh, while maintaining the same spirit each and every performance. Every show I saw there was unique and always a hoot. I am so thankful I got the chance to see them as many times as I did and for their continually superb shows. They really did have such an influence on so many of my Disney experiences when I was younger, with many times their show being the highlight of my day.
But this being an extinct attractions blog, you know where this story has to end. On June 17, 2012, Billy Hill and the Hillbillies left the Golden Horseshoe to take up residence at Big Thunder Ranch. The Laughing Stock Co. quickly took over the Horseshoe. The Billys lasted at the Ranch for a year and a half before their time at the Disney parks came to an unfortunate end on January 6, 2014.
All I wanted to do was go to their last show ever, but it was on a school night so my parents would not let me go, sadly. But if you are like me and couldn't go (which is probably almost everyone because if you were one of the 1,000 people there and are reading this, I will be very impressed!), below you'll find the video footage of the final performance. It was an emotional performance that still had all the fun you would expect from the show.
Billy Hill and the Hillbillies may have left Disneyland, but they will never leave our hearts. This is especially true because the Blue Team that I mentioned earlier is now performing at nearby Knott's Berry Farm as Krazy Kirk and the Hillbillies. I'm glad they were able to find a new home, especially one so close to their original working place. If you were ever thinking about making the journey to see them, you can find all of their information on their website, which also has a lot of great information about the band members and the Billys' history as a whole.
And that brings our time with Billy Hill to a close, but not without the promise of a new attraction next week.
A version of this attraction still exists in four Disney parks (but we'll be talking about the original).
One of the characters in this attraction was voiced by Pee-Wee Herman.
This attraction will be celebrating its 30th anniversary on Monday.
I hope you guys enjoyed learning more about Billy Hill and the Hillbillies because I certainly learned a lot. I had no idea how much history there was behind the group. It is one of my favorite attractions ever, and I'm so happy I got the chance to share it with you.
Thank you for reading and have a magical day!