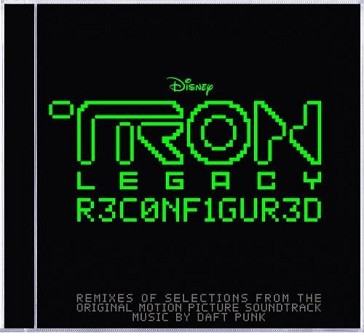 Cover Art "TRON: Legacy RECONFIGURED"
LaughingPlace Newsdesk -- Walt Disney Records announces "TRON: Legacy RECONFIGURED" coming April 5 features an eclectic mix of acclaimed DJs, remixers and producers from around the world bringing their own fresh take on select tracks from Daft Punk's score of "TRON: Legacy".
Mitchell Leib, President of Music and Soundtracks for the Walt Disney Studios describes the new 15 track album as "..the most natural and respectful extension of our TRON soundtrack legacy and one which embraces the electronica club roots of its artistic invention. Now the entire world can dance to the sounds of THE GRID. "
"TRON: Legacy RECONFIGURED" highlights include the multi-platinum artist Moby with "The Son of Flynn"; "The Grid" by platinum-selling electronic music duo The Crystal Method Ken Jordan and Scott Kirkland); and "End of Line" by award-winning German electronic music producer and DJ, Boys Noize (Alexander Ridha). "Fall" another album highlight features a collaboration between electronic/dream pop act M83 and Jonathan Bates' Big Black Delta.
For the ultimate TRON experience, visit tronsoundtrack.com where fans can discover "Easter Eggs" of music