Funko is ending their subscription box service for Disney, Marvel, and Star Wars. They are also ending their DC branded service as well. The...
Funko's Disney Treasures subscription returns for a sixth (and final?) outing with the Ever After Castle themed with exclusive wedding Little Mermaid 2-pack.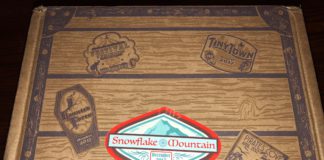 Funko's Disney Treasures subscription crate for December 2017 takes fans to Snowflake Mountain where they will find Bambi, Belle, and some fun winter items.
The newest Disney Treasures crate by Funko takes us to the Haunted Forest where we come face-to-face with Maleficent the dragon and the Hatbox Ghost!
Funko's Disney Treasures crate for August 2017 takes us to Tiny Town to meet Tinker Bell, ride it's a small world, and hang out with Jiminy Cricket.
Funko's second Disney Treasures box is themed to Festival of Friends, featuring figures of Dumbo, Pluto and Woody, plus a Piglet patch and Thumper pin.
Funko's Disney Treasures subscription series debuts with Pirates Cove, with characters from Pirates of the Caribbean and Peter Pan, plus two bonus pins.