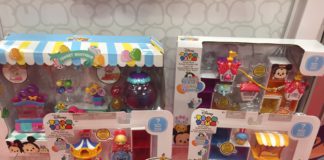 Take a look at all of the Jakks Pacific products from Toy Fair 2017, including Beauty and the Beast, Star Wars, Tsum Tsum, Moana, and Disney Princess.
Disney's Palace Pets expands Whisker Haven into a book series, with some early reader storybook and toy sets plus two read-along book and CD sets.
Palace Pets Whisker Haven Tales: Ms. Featherbon and the Holiday Helpers is a Read Along storybook that teaches kids that its better to give than to receive.
Disney's Whisker Haven Tales: Berry's Halloween Costume Trouble is a storybook and CD set that narrates a tale about Snow White's bunny.
Disney's Palace Pets Whisker Haven Tales: Sultan's Triumphs finds Jasmine's tiger Sultan helping his friends overcome their fears.
Disney's Palace Pets Whisker Haven Tales: Petite's Great Feats pairs an easy reader chapter book with an exclusive toy and puzzle.
Whisker Haven Tales: Treasure's Adventures expands on the Disney Palace Pets toy line with a chapter book and exclusive toy from Ariel's kitten Treasure.
A review of two touch-and-feel books for preschool children from the Disney Tails and Palace Pets franchise.