Tag: Star Vs. The Forces of Evil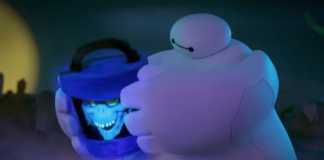 Disney XD has created a series of new spots featuring characters from shows like Ducktales, Big Hero 6, and Star vs. the Forces of Evil paying a visit to...
Star and Marco's Guide to Mastering Every Dimension is a new book based on the Disney XD series Star Vs. the Forces of Evil.
The Disney XD hit Star vs. The Forces of Evil is powering up for a second season starting Monday, July 11th, airing at 10:30 a.m. EDT or...
The second day of Comic-Con ended with a bang, but check out all the Marvel, Star Wars, and Disney XD news that occurred today
Here is a list of Disney company related presentations for Friday at San Diego Comic-Con: Marvel: Secret Wars The Secret Wars rage on! And the architect of...
Disney XD has ordered a second season of Disney Television Animation's animated comedy adventure "Star vs. The Forces of Evil" ahead of the series...
Check out the latest show from Disney TV Animation, Star vs. The Forces of Evil.
We cap off our week of celebrating the 30th Anniversary of Disney TV Animation with a look at a sampling of their future projects