Disney Channel  and Disney XD has renewed Stuck in the Middle, BUNK'D, and Walk the Prank. Production on each will resume in the fall. Disney Channel's...
If you or your children are big fans of Disney Channel, you likely recognize Jenna Ortega from her role on Stuck in the Middle or...
Disney Channel has renewed the hit series Stuck in the Middle after its strong debut season with executive producer Linda Videtti Figueiredo at the...
Stars from Disney Channel's Stuck in the Middle and Freeform's Shadowhunters made a splash on the red carpet at the premiere of The Jungle Book.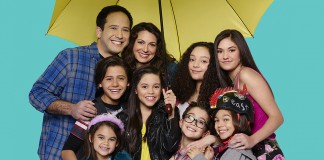 From the first few frames of Disney Channel's new show Stuck in the Middle, I could tell it was going to be different. That's mainly...
Jenna Ortega ("Jane The Virgin" and "Elena of Avalor") stars as inventive tween Harley Diaz, the middle child in a bustling household of nine,...