Three new picture disc vinyls celebrate the Disneyland attractions it's a small world, Pirates of the Caribbean, and The Haunted Mansion.
Winchester Mystery Mansion, which inspired Disney's The Haunted Mansion, is now giving nighttime candlelight tours. Read all about it in our recap.
On this day in 1969, The Haunted Mansion officially opened its doors in Disneyland. Since then the attraction's 999 happy haunts have been celebrated...
Disney's new Haunted Mansion picture book uses the lyrics to "Grimm Grinning Ghosts" and original artwork to revisit every room of Disneyland's mansion.
Today a mysterious site billed as the Ghost Relations Department materialized offering Ghost Post package subscriptions. Each package is said to contain "unique – possibly...
In this week's E-Ticket Life blog, Kyle admits to some Disney elements that still startle him, even in a "Not So Scary" environment.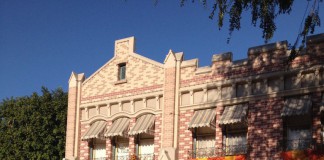 We recently took Disneyland's Happiest Haunts Tour and had a frightfully good time experiencing the park with a Ghost Host. Find out if the tour is right for you in our review of this add-on experience.