Tag: Walt Disney Animation Studios
The Disney/Pixar Animation presentation at the 2017 D23 Expo featured a first look at "Wreck-It Ralph 2," "Olaf's Frozen Adventure," and "The Incredibles 2.
While there may have been surprises at the Academy Awards ceremony on February 26th (And the Best Picture is…), for fans of Feature Animation...
UPDATE: The announcement has been made and Wreck-It Ralph 2 will hit theatres March 9th, 2018! UPDATE: The stream will be available at 9 a.m. PDT on Disney's...
Spending most of my life in Southern California and working at two of the largest theme parks in that area, I felt I was...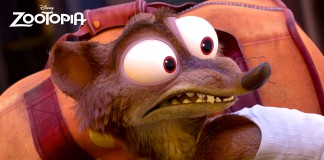 The world of Zootopia just got bigger. Today, Walt Disney Animation Studios announced some of voice cast that will bring the animal residents of the modern-day mammal...
Get an early look at Disney's Zootopia with this recap of the D23 Expo presentation "Welcome to Zootopia."
Walt Disney Animation Studios Short Films Collection combines 12 shorts from the past 15 years with filmmaker introductions. Available digitally August 11th and on Blu-Ray/DVD Combo Pack August 18th.
Get all the news from the D23 Expo's animation presentation, including Finding Dory, Moana, Toy Story 4 and the newly announced Gigantic!
Big Hero 6 continues Walt Disney Animation Studios' winning streak with another great animated film. Get all fo the details in our latest review.