The long awaited Legacy Collection release of the Beauty and the Beast soundtrack is finally here, offering the complete Alan Menken score plus demo tracks.
Today the popular streaming service Pandora and Walt Disney Records announced a special mixtape that will take fans through 60 years of Disney music. The...
The twelfth release of The Legacy Collection celebrates the 45th anniversary of The Aristocats and marks the first time the full soundtrack has ever been made available. With four Lost Chords and some jazzy bonus tracks, this one is a must-have.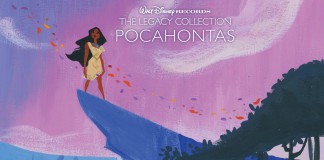 The Legacy Collection release of Pocahontas presents the full score from the extended edition, including "If I Never Knew You" and some demo versions of familiar and deleted songs.
The Legacy Collection release of the Toy Story soundtrack provides the entire film score, with Randy Newman demos as bonus tracks including songs and lyrics that didn't make it into the film.
The Legacy Collection: Cinderella features the complete film soundtrack, 7 Lost Chords, and 9 bonus tracks that you may or may not already own.
The seventh release in Walt Disney Records' The Legacy Collection is Lady and the Tramp, and Intrada exclusive.